At L.A. motorcycle show, this 'knucklehead' is tops
Hundreds of motorcycle enthusiasts who entered custom bikes in the Easyriders® 2013 Bike Show in Anaheim, Calif., were apparently barking up the wrong tree. When it was all said and done, Howard "Tree" Slayton's replica 1947 Knucklehead Harley-Davidson Radical Chopper was the cream of the crop.
Tree is Los Angeles Metro bus operator Howard Slayton, a 13-year member of UTU Local 1607 at Los Angeles. He was also proud to mention that he's approaching nine years of safe operation without a chargeable offense.
His bike was selected as "best of show" by the Easyriders® panel of judges. Easyriders® bills itself as the world's best-selling motorcycle magazine for men.
"I chose to be judged by the judges, instead of the people's choice," Tree said. "With all of the engineering and all of the little trick stuff I've done, they understand that and see that."
"Tree is my nickname from when I was playing football and basketball in high school and college, and it carried over. They know me in the bike world by that name." It is also stylishly emblazoned on the gas tank of his bike.
Slayton became interested in motorcycles when he was discharged from the Army. "When I came back, a lot of my buddies were into motorcycles, so that's when I got interested," he said.
Slayton said his motorcycle is his creation. "I have a partner who is a welder and helps me, but the bike, I designed it. All of the parts were purchased by catalog. The motor is a knucklehead replica. It's made to look like the original."
The bike isn't just a showpiece. It is street-legal and Slayton said he rides it all the time.
This wasn't Slayton's first competition, and it won't be his last. He took first place in the Los Angeles Metro Roadeo's car and motorcycle show in 2009 and 2010 and, after two years off, plans to enter again this year. His bike will also be featured in an upcoming issue of Cycle Source magazine.
As for his "best of show" award, "I got a trophy. Easyriders® invited me to their regional winners competition in Columbus, Ohio, but the expense of getting my bike transported there is too much."
"I was surprised, I was really surprised," he said of the award. "It's like a top honor, and the fact that it was Easyriders®, well I was amazed."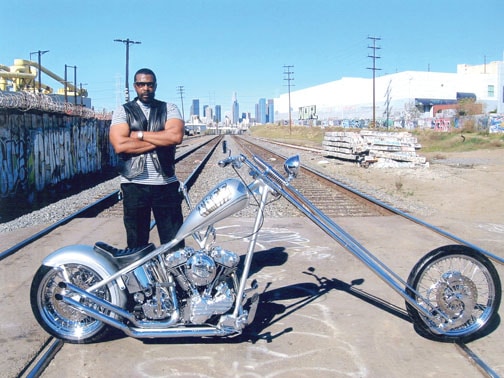 Los Angeles Metro bus operator Howard "Tree" Slayton proudly displays his
award-winning motorcycle on the outskirts of downtown Los Angeles.