Around the UTU, June 2013
Local 202, Denver, Colo.
The members of this local are asking for donations to assist the family of 40-year member John D. Velasquez, whose wife, Louise, is in need of liver and kidney transplants. She is suffering from non-alcoholic, fatty liver disease. "John was planning on retiring this spring, but expenses may prevent that from happening," said Colorado State Legislative Director Carl Smith. Donations may be made by contacting Westminster Federal Credit Union at (303) 427-6466, or mailing them to Louise Velasquez Benefit – WFCU, 9053 Harlan St., Ste. 10, Westminster, CO 80031. Visit https://www.facebook.com/LiveLoveIlluminate?ref=hl on Facebook for more information.
Local 204, Pueblo, Colo.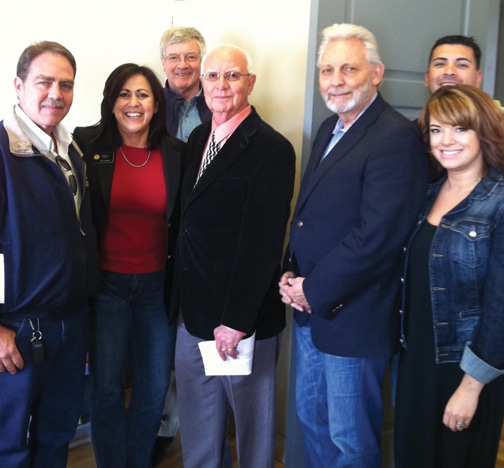 Assistant State Director and UTUIA Field Supervisor Charlie Skidmore and his wife, Elaine, were among a group of nearly 50 train enthusiasts and local leaders who showed their support on National Train Day for maintaining Amtrak's Southwest Chief service between Chicago and Los Angeles. The group met the train in Trinidad, Colo., cheering and waving signs. A delegation then boarded the train and traveled over Raton Pass to New Mexico, where they met with other individuals and officials to discuss the future of the rail line. The event was sponsored by the Colorado Rail Passenger Association. Pictured, from left, are Skidmore, Colorado State Sen. Angela Giron, Colorail President Jim Souby, Las Vegas Mayor Alfonso Ortiz, Pueblo City Council President Steve Nawrocki, Colorado State Rep. Leroy Garcia and his wife, Michelle.
Local 243, Fort Worth, Texas
Secretary & Treasurer Cameron Callum reports that this Union Pacific local has already donated $500 dollars to the Tornado Relief Fund established by Local 1188 in Oklahoma City, Okla., to assist members who suffered losses in and around Moore, Okla. "The money will go directly to our affected brothers and sisters. I hope the international gets something put out to publicize this fund," Callum said.
Local 544, Havre, Mont.
The local is sponsoring a three-day event in the beautiful Bears Paw Mountains consisting of camping, entertainment and a fantastic barbecue, according to Picnic Chairperson Amy Preite. "This is an ideal time for our members, new and old, to come together with their families and friends. Three days will allow all to attend without missing work," Preite said. Donations from designated legal counsel and businesses within the community will be used for prize giveaways. Planned events include meals, music, a 50-50 duck race and kids' day. Attendees are asked to bring salads and desserts to help defray costs. Email Preite at Amy.Preite@bnsf.com for the event schedule.
Local 866, Rawlins, Wyo.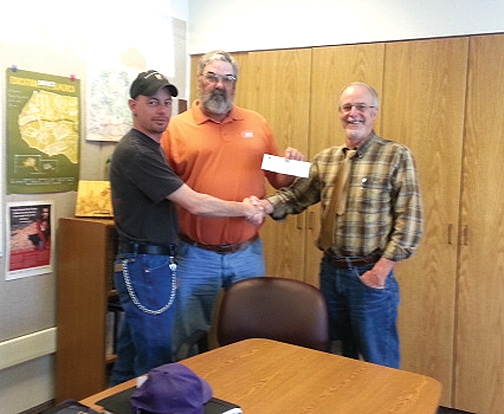 David Throgmorton, Ph.D. and director of the Carbon County Higher Education Center in Rawlins, right, is presented with a $1,000 check from the members of this Union Pacific local by Local President James J. Spencer, left, and Legislative Rep. Vern Whitfield. The donation from the Wyoming State Legislative Board and Local 866 for the Rochester Institute of Technology scholarships will help Rawlins high school graduates pursue careers in the engineering field, Local Chairperson Ron Sjogren said. The credit hours from the center are transferable to other universities.
Local 662, Richmond, Va.
Following a special election held in April, Jamie Rainier has been elected local secretary and Cecil Pinner has been elected local treasurer, former Secretary & Treasurer Jimmy Galbraith reports. In April, Pinner attended the local treasurer's workshop held at the International in North Olmsted, Ohio, and received valuable training for the position. In other news, Galbraith noted the retirement of member and General Chairperson Jim Townsend (GO 201) after 30 years of service and the death of retired member Troy E. Ball in February. He also praised the work of members Everette J. Ready (Afghanistan), Edward Chappell and David Grizzard, who are serving on active duty in the National Guard.
Local 1000, Minneapolis, Minn.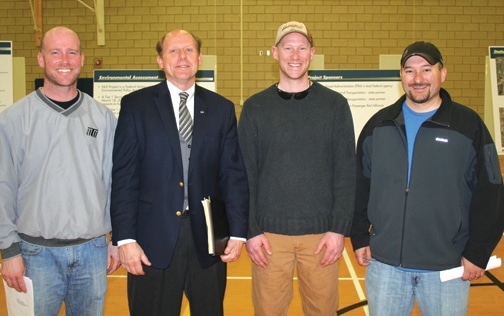 UTU Local 1000 officers represented the SMART Transportation Division April 4 at a public-comment open house for the proposed Northern Lights Express (NLX) passenger rail service connecting the Twin Cities and Twin Port via BNSF Railway. Environmental review studies have been completed and the project is moving into the design phase. "It's always great to see UTU members attend local government affairs and political events to advance our industry. The members' appearance before NLX helped UTU move and pass a NLX board resolution in support of union-run, -operated and -maintained passenger services," State Legislative Director Phillip Qualy said. Pictured, from left, are Local President John Haggerty, Qualy, Local Chairperson Kevin Amoriello and Vice Local Chairperson Eric Carlson.

Local 1043, Sparks, Nev.
Former retired Local Chairperson Lee Wilkes reports that his friend and mentor, Alumni Association member and former Local Chairperson Robert C. Patterson, 79, died April 11. He was buried with military honors.
Local 1608, Chatsworth, Calif.
The members of this Los Angeles Metro bus local are mourning the sudden death of fellow member Shenita Coleman May 5, Local Secretary Jack Dedrick reports. Coleman worked for Los Angeles MTA as a bus driver for 17 years and is survived by her husband, Harvey, son Raphael, and daughters Ranita and Tamara.
Local 1892, Houston, Texas
This Union Pacific local has amended its bylaws, effective in May, and all members should be receiving copies with a return receipt mailed to the secretary & treasurer. Local Chairperson Dan Holak reports. The local has also produced a "welcome booklet" for new members explaining unions, the SMART TD's structure, grievances, representation rights and other important information. Holak said that the local has a "time claims information" help sheet explaining how to file non-service time claims. Members who have not received this information should contact him at (832) 795-3827, or Secretary & Treasurer Keith Green at (832) 969-2252, for a copy.