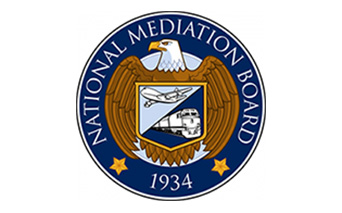 From the National Mediation Board:
Washington, D.C. – The National Mediation Board (NMB) is pleased to announce the arrival of new Board Member, Deirdre Hamilton. Ms. Hamilton was confirmed by the United States Senate on December 7, 2021. She was sworn in and assumed her position with the NMB on January 25, 2022.
Prior to becoming a Member, Ms. Hamilton worked as a staff attorney at the International Brotherhood of Teamsters (IBT), working exclusively with the IBT's Airline Division. At the IBT she represented most of the crafts or classes within the airline industry — including pilots, flight attendants, technicians, and aircraft cleaners — at both commercial and cargo air carriers. Before that, Ms. Hamilton was a staff attorney at the Association of Flight Attendants. In her career, she has handled a wide range of legal matters including National Mediation Board elections and mediation, collective bargaining support, contract enforcement, and litigation of Railway Labor Act issues. Ms. Hamilton began her career as a legal fellow in the General Counsel's office at the International Association of Machinists and Aerospace Workers.
Ms. Hamilton has been an active member of the Railway Labor Act legal community. She has served as a panelist at meetings of the American Bar Association's Labor and Employment Law Committee and the Railway and Airline Labor Law Committee. She has also served as a Senior Editor for the ABA Railway Labor Act Treatise.
Ms. Hamilton is a graduate of Oberlin College and the University of Michigan Law School.
The National Mediation Board (NMB) is an independent agency created by the Railway Labor Act, which governs labor management relations in the railroad and airline industries. To avoid serious disruptions to the Nation's economy and protect the public interest, the Act imposes on carriers and their employees the duty of settling disputes through negotiation, mediation, and arbitration. The NMB, headed by three Presidential appointees, has as its chief statutory responsibilities: (1) mediation of collective bargaining disputes; (2) determination of employee representation for collective bargaining processes; and (3) administration of a grievance arbitration system.