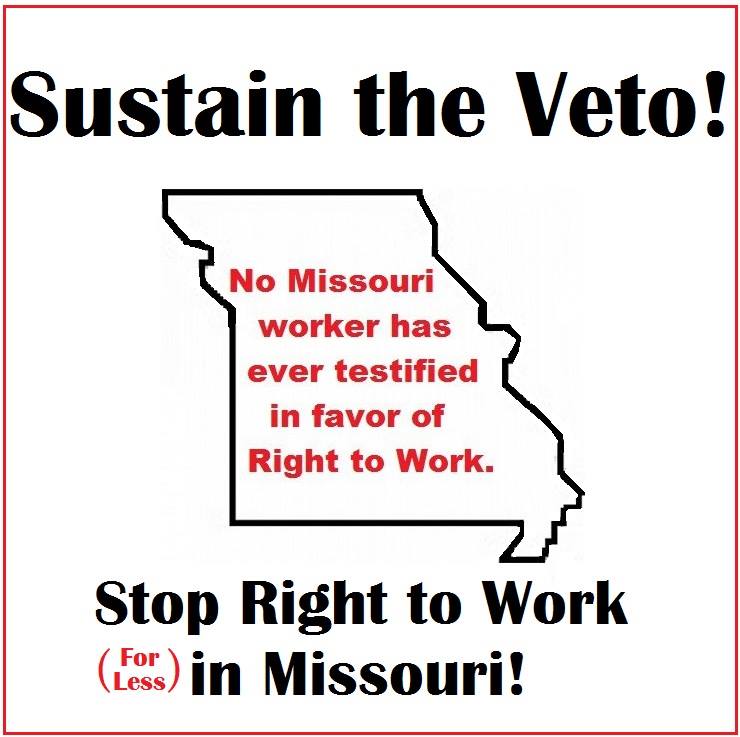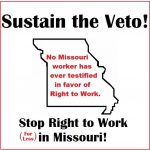 Missouri State Legislative Director Ken Menges asks Missouri SMART members to join in the fight against right-to-work. Although Governor Jay Nixon vetoed the right-to-work legislation June 4 at the SMART Sheet Metal Local 36 facility, a battle has been raging in the state to get that veto overturned.
A veto session is scheduled for Wednesday, September 16, 2015 to revisit the right-to-work legislation and to overturn the veto.
"We have worked hard since the legislative session ended in May to visit and show support for both our Democrat and Republican friends," Menges said. "I would like to extend a special thanks to Assistant State Director Jason Hayden (Local 1405 – St. Louis), Local Legislative Representatives Thad Krawczyk (Local 933 – Jefferson City, Mo.), Josh Stallings (Local 1823 – St. Louis), Gerald Wohlgemuth (Local 226 – Moberly, Mo.) and Dan Coleman (Local 1780 – Kansas City, Mo.) for spending several days canvassing door-to-door, working to get letters from union members to their legislators and thanking them for their support.
"According to the Missouri AFL-CIO we have had nearly 20,000 letters and calls go out to legislators, which is phenomenal."
A rally was held September 12 in preparation for the fight against Governor Nixon's veto being overturned. The rally was attended by hundreds of union members across the state, including SMART membership. Governor Jay Nixon was a keynote speaker at the event.