The SMART Transportation Division's Nebraska State Legislative Board is once again organizing participation in Omaha's annual Labor Day parade Monday, Sept. 1, and SMART members from Omaha and surrounding areas are invited to take part.
The festivities begin Sunday at 5 p.m., when the board will hold a "membership feed" at the Sheet Metal Workers' Hall at 3333 S. 24th St.
Parade participants will assemble at 9 a.m. on Sept. 1 at 16th and Webster Sts. for the 10 a.m. march through Omaha.
As in past years, there will be mini trains and the SMART TD caboose for children to ride upon.
"Come on out and walk the parade route with your fellow members of the SMART family," Nebraska State Legislative Director Bob Borgeson said. "I am sure SMART General President Joe Nigro will join us as he did last year."
Those events are just the beginning of the fun. The city will be celebrating its Septemberfest over the weekend and there should be a variety of events available to entertain members and their families.
For more information, contact Borgeson at (402) 679-0872 or SMARTDIRECTOR@cox.net.
Feel free to post this flyer on local union bulletin boards.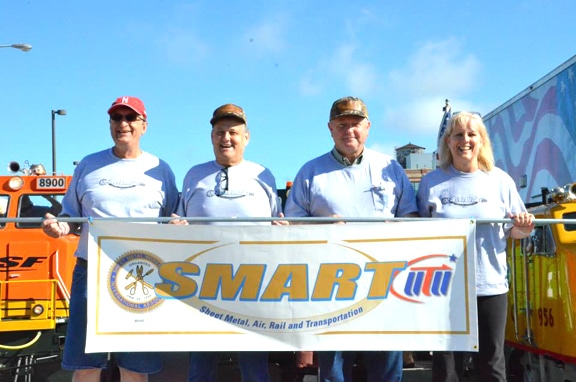 Leading the SMART contingent in the Omaha, Neb., 2013 Labor Day parade were, from left, Nebraska State Legislative Director Bob Borgeson, SMART General President Joe Nigro, SMART Chief of Staff Rich McClees and Douglas County Board Chairperson Mary Ann Borgeson, Bob's wife.