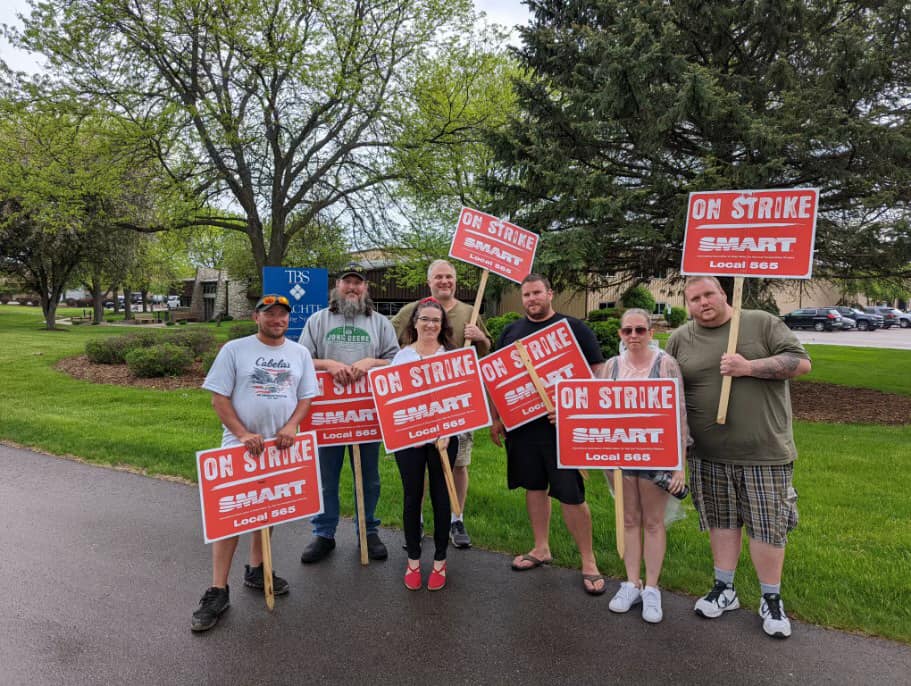 On Friday, May 6, 105 members of SMART Local 565 working at Trachte Building Systems in Sun Prairie, Wisconsin voted to strike – taking a collective stand for their rights to a fair contract that gives them well-earned time to spend with their families and loved ones.
"There's been lots of a mandatory overtime put on the workers through the pandemic, [and] the company is looking for additional mandatory overtime language [in the next contract]," Local 565 Business Manager Jesse Buell said in an interview with Labor Radio in Madison. "The people just want more family time."
Sheet metal workers at Trachte perform essential labor that has proved especially vital in recent years, producing training centers for fire fighters and first responders, as well as storage units that are used across the country. Unfortunately, Buell explained to Labor Radio, the hard work of the members has not been rewarded by management. Instead, Trachte has maneuvered to keep Local 565 members working as much as possible – at the expense of time spent with their kids, families and neighbors.
"There was a moment where Trachte worked these guys for seven days a week for about nine weeks in a row very strategically, where they didn't mandate the same person for the 15 days, but they would go back and forth from machines," he said.
Following what Buell called a "strong" strike vote, Local 565 members have taken to the street – despite attempted union-busting from Trachte, including a letter encouraging workers to quit the union. According to Buell, the company's hostile tactics have only strengthened the resolve of the workers.
"It's actually motivated the members to stick together, and it's really gained solidarity over there," he said.
That solidarity has extended to the rest of the Wisconsin labor movement. On Monday, May 9, the Wisconsin AFL-CIO released a statement in support of striking SMART members.
"The Wisconsin labor movement proudly stands in solidarity with our sisters and brothers of SMART Local 565 on strike at Trachte Building Systems in Sun Prairie," said Stephanie Bloomingdale, president of the Wisconsin AFL-CIO. "We send solidarity and strength to SMART members as they hold the line for a fair and just contract that allows workers to spend time with their family."
SMART commends the bravery of our Local 565 brothers and sisters on strike in Wisconsin, and every member of our union stands with them in unwavering solidarity as they continue to fight for their rights.