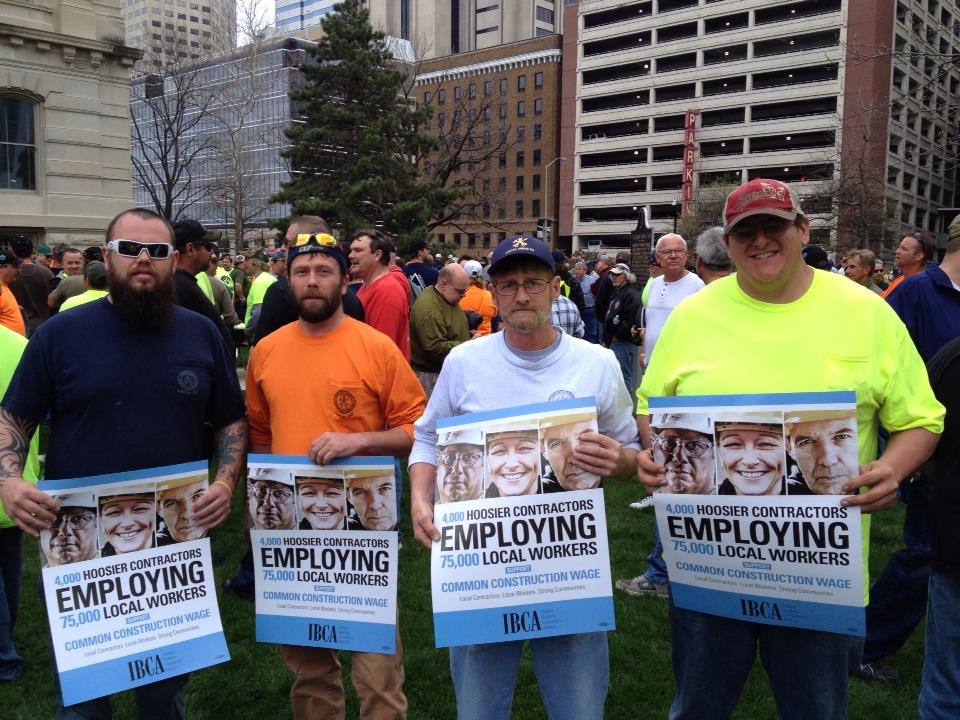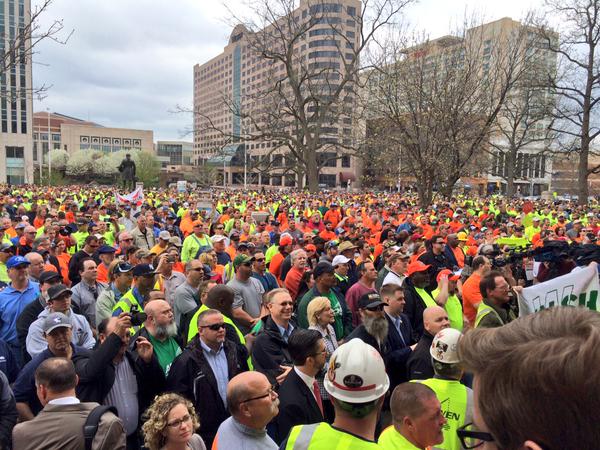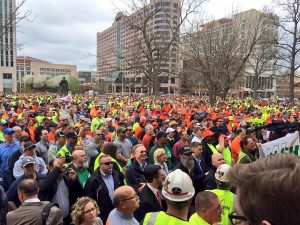 Construction workers were joined on Monday, April 13th by construction contractors and community groups at the Indiana Statehouse in their opposition to GOP attempts to eliminate that state's Common Construction Wage.  Workers across the state are making their voices heard and are taking to the airwaves to ensure that every Indiana citizen is able to hear their message.
Labor is not alone in its opposition to this proposed law.  More than 30 Indiana mayors have come out against the law, including the mayors of Evansville, Boonville, Mt. Vernon, and Rockford. In Bloomington, where a mayoral election is underway, Democratic challenger Darryl Neher has voiced strong support for the CCW, calling repeal "a short-sighted and foolhardy attack on the working men and women of Indiana." Neher has proposed that the city council take action and draft legislation that allows Bloomington to maintain its ability to pay fair wages on publicly funded construction projects.
South Bend Mayor Pete Buttigieg called on his city council to make a similar move earlier this year. As he noted at the time:
"We can hold ourselves to a higher standard, and as the Economic Policy Institute suggests, in the process we can ensure worker safety, maintain the highest standards of construction quality, keep construction costs competitive and pay fair and livable wages."
The bill, first passed in the Indiana House, is labelled HB 1019.  It passed the Senate Tax and Fiscal Policy Committee by an 8-5 margin last week, meaning the Governor and conservative Republicans are one step closer to repealing that state's Common Construction Wage which has worked for over 70 years. All committee Republicans voted in favor of the bill except for one, Senator Ed Charbonneau, who joined Democrats in voting against the wage-limiting bill.
Indiana's Common Construction Wage is similar to the prevailing wage which sets wages and standards on publicly financed projects.  Unlike the prevailing wage, the Common Construction Wage is determined by local boards composed of employers, Union representatives and two members of the local community.