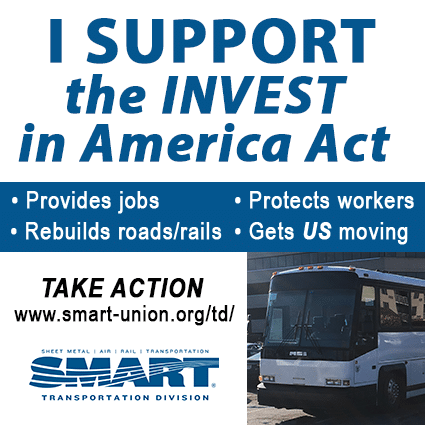 The Investing in a New Vision for the Environment and Surface Transportation (INVEST) in America Act passed through the U.S. House of Representatives' Transportation and Infrastructure Committee late June 18 by a party-line vote of 35-25.
The legislation, which contains provisions that affect the safety and well-being of all members of the SMART Transportation Division, now moves to consideration by the entire U.S. House of Representatives.
"This is another step in what has been a years-long journey," National Legislative Director Gregory Hynes said. "We are now farther than we have ever been in regard to having national two-person freight crew protections made into law thanks to our members' action and advocacy."
"But we will need to keep the pressure on members of Congress in both the Senate and in the House so that this and other parts of this regulation are not casually tossed out in accordance with the carriers' will as the scheduled July 1 floor vote approaches."
The union has rolled out contact forms on its Legislative Action Center for members and concerned parties to reach out to their U.S. representatives as the INVEST Act is considered by House members. These links will be accessible through the main SMART-TD web page as well.
A coordinated informational campaign also has been launched to educate members on what the act provides. While not perfect, this legislation represents a step to shoring up a craft that has been under siege for years, SMART-TD leaders say.
"There are some people in our union who misunderstand the intent of the bill because they might support the Republican Party or the president. They degrade the union on social media or say that this attempt at legislation is a giveaway or too weak in protecting conductors because there are some exceptions in it," SMART-TD President Jeremy Ferguson said. "It establishes protections where there are NONE. Your union is not the enemy — the carriers want to eliminate even more jobs and lay waste to the people and families who kept the freight industry going through a pandemic. The battlefield is in the halls of Congress and passage of the INVEST Act, with the protections intact, would be a victory."
The INVEST in America Act contains provisions on:
Two-Person Crews;
Operator Assault;
Blocked Crossings;
Sleep Apnea for Commercial Drivers;
Yardmaster Hours of Service;
a "Cross Border" fix.
During the two days and more than 24 hours of committee consideration in the House on June 17 and 18, four Republican representatives proposed amendments attempting to remove the portions of the INVEST Act covering freight rail: two-person crews, yardmaster hours of service, blocked crossings and the "cross border" fix, making President Ferguson's prediction about the legislation become true.
"There are only two parties at the table. The Democrats wrote it into the bill, only the Republicans will take it out," he wrote June 3.
For example:
Democratic Rep. Alan Lowenthal of California proposed Amendment 43, which requires the federal DOT to study, establish standards and come up with a final rule regarding untreated obstructive sleep apnea, which affects many transportation workers. The amendment succeeded and was passed by voice vote.
In contrast, four Republican representatives attempted to attack provisions important to our members.
Republican U.S. Rep. Scott Perry of Pennsylvania proposed Amendment 125, which attempted to remove two-person crew protections. That amendment was defeated by a voice vote after Perry in his argument parroted talking points rolled out by rail industry groups including the Association of American Railroads (AAR).
Republican U.S. Rep. Brian Babin of Texas proposed Amendment 41, which attempted to remove the cross border fix proposed in the act, but later withdrew his amendment before it could be voted upon.
Republican U.S. Rep. Bob Gibbs of Ohio proposed Amendment 25, which attempted to remove the yardmaster hours of service rules proposed in the act, but later withdrew his amendment before it could be voted upon.
Republican U.S. Rep. Troy Balderson of Ohio proposed Amendment 23, which attempted to remove the blocked-crossing rule proposed in the act. That amendment was rejected by voice vote as part of an en bloc package of amendments.
The actions of these legislators will be remembered in November, but we have bigger concerns as we approach a scheduled July vote on the bill. Use the Legislative Action Center to contact your members of Congress and let them know that the INVEST in American Act deserves their support, keeps communities safe and protects American workers and their jobs!