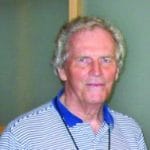 Amtrak General Chairperson (GO 663) and Connecticut State Legislative Director William A. "Bill" Beebe, 86, died June 29, 2015.
Beebe served more than 60 years as a union representative to the Brotherhood of Railroad Trainmen (BRT), the United Transportation Union (UTU) and the SMART Transportation Division.
In June 2014, at the first convention of the SMART Transportation Division in San Diego, SMART Transportation Division President John Previsich called attention to Beebe's accomplishments, noting he had served as general chairperson for 38 years, attended his first convention as a delegate for the BRT in 1964 and was attending his 14th convention as a delegate. He was a delegate to every convention since the formation of the UTU.
A member of Local 1361 in New Haven, Conn., and an active participant in the unification movement that led to the establishment of the UTU, Beebe was born Jan. 15, 1929. He joined the U.S. Army in 1946, and later attended college at the University of South Florida and at Southern Connecticut State University, where he earned a bachelor's degree and a teaching certificate. He was an avid handball player at the New Haven YMCA, and played tennis into his seventies. He was also a minor league pitcher in the Drummond Baseball League during the early 1950s.
Beebe hired out in 1951 with the New York, New Haven and Hartford Railroad in the mail and baggage department. On May 29, 1953, he transferred into operations as a brakeman, joining BRT Lodge 937 (now SMART Transportation Division Local 1361) on Aug. 1, 1953.
Beebe first took union office Jan. 1, 1954, as local committee of adjustment secretary for BRT Lodge 937. He was elected vice local chairperson in 1957, and became local chairperson in 1962. Serving as local chairperson and Connecticut state legislative director from 1964 to 1976, he was elected general chairperson on the former New Haven and Hartford Railroad in 1976.
In 1983, Beebe led UTU-represented Metro North Railroad employees through a six-week strike that resulted in a groundbreaking agreement that became the benchmark for commuter rail contracts, an agreement that SMART Transportation Division members benefit from to this day. In addition to serving as general chairperson and Local 1361 delegate and trustee, Beebe was elected as Connecticut state legislative director in 2005, a position he held until his death.
Beebe was known to keep the most current union contract with him at all times, in the event that someone asked about contractual provisions.
Beebe's wife, Felicia, died in 2001. He was predeceased by his brothers, Phillip, Earl and Norman; a sister, Eila Talbot; and parents Earl and Margaret (Lewis) Beebe. He's survived by his daughter, Suzanne Griffiths; her husband Owen; two granddaughters, Celeste and Carys Griffiths and many nieces and nephews.
Calling hours for Beebe are set for Sunday, July 5 at Beecher and Bennett Funeral Home, 2300 Whitney Ave., Hamden, CT 06518 from 4:00 p.m. to 8:00 p.m. A Mass of Christian Burial will be held Monday, July 6 at 10:00 a.m. at Holy Infant Parish, 450 Race Brook Rd., Orange, CT 06477. Memorial contributions can be made to Connecticut Food Bank, P.O. Box 8686, New Haven, CT 06531.
Click here to leave condolences or view Beebe's official obituary.