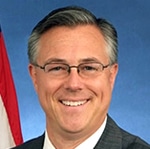 Federal Railroad Administration chief Joseph Szabo testified April 10 before members of the Surface Transportation Board regarding the negative impact service degradation on the nation's railroad network could have on rail safety and Amtrak on-time performance.
His prepared oral testimony follows:
Chairman Elliott and Vice Chairman Begeman, on behalf of Transportation Secretary Anthony Foxx, thank you for the opportunity to testify today about the negative impact service degradation in our Nation's rail network can have both on rail safety and on Amtrak's on-time performance.
Let me first talk about FRA's top priority – rail safety.
Over the past decade, our-data based oversight and enforcement has helped the industry achieve a 47 percent decrease in both train accidents and derailments, and a 35 percent decrease in highway-rail grade crossing accidents.
By most measures, Fiscal Year 2013 was the safest year on record. But we owe it to the public to always do better.
And that's why the railroad's weekly metrics showing railroad performance declines among Class I carriers are a big concern to us.
As railroad performance declines, rail velocities diminish, cars on line increase, terminal dwell time increases – and above all, our experience tells us, safety can suffer, too.
We learned this with the significant service degradation Union Pacific/Southern Pacific faced about 15 years ago – when we testified before the Board – as an example of how quickly operating conditions can change and affect safety.
Experience tells us there can be a safety breakdown, for example, when it comes to the ability of supervisors to perform their jobs, as a consequence of additional work pressures.
Ineffective crew utilization can lead to employee fatigue. And in order to ensure adequate rest, crews need absolute predictability as to when they go to work.
And, as a railroad rushes to gain the upper hand on service issues, it becomes necessary to hire new employees. Without adequate training that instills the proper safety culture, the number of accidents is likely to rise.
As large of a role as the Nation's freight railroads have in serving our Nation's businesses and economy, no concern must ever come before safety.
That's why we have been monitoring this service situation closely and meeting with railroad CEOs to gain assurances that the carriers are operating in the safest manner.
In BNSF's letter to the Board in response to the Western Coal Traffic League's request for a proceeding concerning rail service problems, the railroad announced that it will be hiring 5,000 employees in 2014 to relieve these service pressures.
While laudable, it is imperative that the railroad undertake the proper training to ensure that the railroad operates in the safest manner.
We also have noticed a marked increase in delays to Amtrak trains and an associated degradation in on-time performance.
DOT and FRA provide financial assistance to Amtrak to partially fund its operations and capital investments, and work to support Amtrak's efforts to enhance its passenger rail services. For these reasons, Amtrak's financial performance is of great interest to us.
And in keeping with our nationwide mandate to improve the safety of passenger and freight railroads, we focus closely on the safety of Amtrak's facilities, equipment, and transportation operations.
It should be noted that Amtrak has set ridership records in 10 out of the last 11 years – and last year was relied upon by more than 32 million travelers. So, service issues that ultimately delay intercity passenger trains have many negative implications for travelers, Amtrak, and the transportation network as a whole.
Late trains may cause travelers to miss connections or abandon their travel plans entirely. Reduced ridership and additional operating delays cause Amtrak immediate and, potentially, long-term financial harm.
A slower, less efficient passenger rail network reduces travel options for some and may put more strain on other modes of transportation, as well.
DOT and FRA closely monitor the on-time performance of Amtrak services, because even just a few months of poor performance have the potential to cascade into long term problems.
Over the past twelve months, we have witnessed a steady decline in timeliness of Amtrak trains, particularly those that operate over the freight rail network.
Only about 63 percent of Amtrak's Long Distance trains reached their endpoint on time between March 2013 and February 2014 – 12 percent worse than the previous 12 months.
From December 2013 to February 2014, half of all Long Distance trains were late to their final destination.
On-time arrivals to intermediate stations on Long Distance routes were even less frequent, at 48 percent over the last 12 months and just under 40 percent this past December through February.
Shorter, State Corridor trains did not fare much better, with nearly a quarter, 22 percent, of all such trains arriving late over the past 12 months.
Amtrak's on time performance has been a long-term interest of this Department and of Congress – and Amtrak tracks and reports all train delays to the FRA.
For February 2014, the month for which data was most recently reported to FRA, delays attributable to the host freight railroad were the highest in over 5 years. The largest category of Amtrak delays in recent months has been host freight train interference.
Such a designation is based on the Amtrak conductor's immediate observable cause.
The extreme delays to Amtrak and other users of the network are a symptom of a fragile network that is strained and struggling to react.
Thank you for providing DOT the opportunity to comment in the proceeding. I would be happy to answer questions.