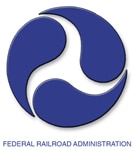 The Federal Railroad Administration (FRA) Nov. 7 issued a final rule that strengthens training requirements for railroad employees and contractors who perform safety-related work. The rule, which was mandated by the Rail Safety Improvement Act (RSIA) of 2008, ensures safety-related employees are trained and qualified to comply with any relevant federal railroad safety laws, regulations, and orders.
"Safety is our top priority and this is just the latest step in our mission to ensure the safety of railroad employees, the public and the communities these railroads pass through," said U.S. Transportation Secretary Anthony Foxx. "The GROW AMERICA Act will help advance safety by harnessing technology and research, as well as implementing Positive Train Control and updating federal hours of service regulations."
The rule improves training for all safety-related railroad employees, regardless of whether the person is employed by a railroad, a contractor or a subcontractor, by requiring:
Minimum training standards for each type of safety-related railroad employee;
FRA review and approval of each employer's training program to ensure employees will be qualified to measurable standards;
Greater use of structured on-the-job and interactive training;
Methods for each employer to review and improve training programs annually with a focus on closing performance gaps; and
A streamlined, nation-wide approach that bolsters training for operators of roadway maintenance machines equipped with a crane that work across multiple jurisdictions.
"Quality training is fundamental to the execution of safety sensitive railroad duties," said Federal Railroad Administrator Joseph C. Szabo. "This regulation ensures the heightened professionalism of the workforce that keeps our railroads running safety and efficiently every day."
Through the Railroad Safety Advisory Committee (RSAC), FRA is working to complete the actions mandated by RSIA, including developing a framework for the creation and implementation of performance-based programs that anticipate and reduce risk. An RSAC working group has developed recommendations for fatigue management provisions and the agency moving forward with rulemakings related to the transportation of crude oil and ethanol by rail – one focusing on the securement of equipment and the other on the appropriate crew size requirements when transporting highly flammable liquids.
Additionally, FRA is preparing a final rule amending its regulations related to roadway workers and is developing other RSAC-supported actions that advance high-performing passenger rail, such as proposed rules on standards for alternative compliance with FRA's Passenger Equipment Safety Standards.
The Federal Railroad Administration's (FRA) mission is to ensure the safe, reliable, and efficient rail transportation of people and goods for a strong America, now and in the future. The GROW AMERICA Act supports this mission with predictable, dedicated investments that enhance safety and modernize our rail infrastructure to meet growing market demand. The Act also builds on current investments to vastly improve the system in areas ranging from Positive Train Control (PTC) implementation to enhancing flexibility in financing programs that will better enable the rehabilitation of aging infrastructure.
To view the final rule, click here.