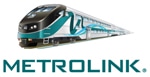 The Metrolink commuter rail system's board of directors on Friday is expected to hire Art Leahy, the former head of the Los Angeles County Metropolitan Transportation Authority, as the railroad's chief executive officer.
Leahy, 66, is a veteran transit official who ran three transportation agencies after starting his career as a bus driver for the old Southern California Rapid Transit District, predecessor to the MTA.
Read the complete story at the Los Angeles Times.