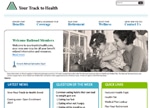 Railroad members covered under the national and health and welfare plans have received an extension to enroll in a health flexible spending account (FSA).
The enrollment period extension is from Nov. 5 through Dec. 1, 2013.
This special enrollment extension is only for the health FSA benefit. Enrollment for all other 2014 railroad benefits closed on Nov. 2.
To enroll in the health FSA benefit for 2014 during the extension period, visit www.yourtracktohealth.com and click "Login" in the upper-right corner.
If you have already registered, enter your username and password. If you have not yet registered, select "New User?" at the bottom of the screen to complete your registration.
Once logged in, look to the upper-left corner of the screen, select the tab that reads "Enrollment for the health FSA only has been extended beginning November 5, 2013 through December 1, 2013. Click here if you haven't already enrolled in the health FSA for 2014."
Be advised that you must enroll in your FSA every year. FSA enrollment is not automatic.
A health FSA is a benefit plan that lets you save money by putting pre-tax wages aside in a special account to help pay for certain medical costs and other health services. This means you can save on what you pay in your annual income taxes.
When you enroll in the health FSA for 2014, you will be able to use a special debit card to easily pay for eligible FSA expenses. The debit card is connected to your flexible spending account so there is no need to write checks or submit claim forms. Look for more information in the future that explains how your debit card may help you manage your out of pocket expenses.