It Pays To Partner With SMART
LOWER COSTS AND HIGHER PROFITS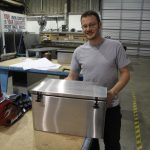 Did you know that there is a link between the kind of health and safety training SMART members receive and reduced workers' compensation claims?  According to the Journal of Occupational and Environmental Medicine, "participation in health and safety training reduced workers' compensation claims by 34 percent." It's simple mathematics. Hit the job running with a well-trained, highly-skilled workforce. A crew that works more effectively and efficiently on any kind of project allows your business to be more productive and profitable. The International Association of Sheet Metal, Air, Rail and Transportation Workers (SMART) (SMWIA) supplies you with the trained technicians that you need in 24 hours or less; no wasted time or money running advertisements, recruiting and interviewing prospects who aren't qualified. It's nice to know that you'll never have to call your competitors for assistance. You save time and money… and add profit by cutting out recruiting costs.
BEING FLEXIBLE AND MOBILE
Imagine the opportunity to grow your business and increase your profit margin. Nothing will help you get there faster than your employees and a partnership with SMART. In today's competitive market, every bid opportunity is important. Passing up a bid is not an option. Having the right number of workers that are skilled in the proper disciplines will give you the advantage you need to compete for more jobs and bigger jobs. Partnering with SMART gives you access to more jobs and makes you competitive in the marketplace. A flexible and mobile workforce puts you in position to answer the client's needs at a moment's notice.
FOCUSING ON THE BUSINESS AT HAND
You started a sheet metal business because you're good at the craft. Nobody loves the paperwork side of the business. When you partner with SMART, you spend less administrative time and reduce overhead. Medical, dental, retirement, and other benefits are all covered and union-administered. Reduced administrative overhead means more time to concentrate on what you do best: running a successful, profitable business. The secret to running a successful business is grounded in satisfied employees who bring about satisfied customers. Satisfaction builds loyalty. SMART's excellent retirement and health benefit programs assure business owners of a stable and reliable workforce for the long-term.
IT PAYS TO PARTNER WITH SMART
You can call day or night for skilled manpower. Continuous training for employees in our state-of-the-art facilities. Productivity is significantly increased. Labor costs are constant for the duration of your project. You and your employees are entitled to the best benefits in the industry. Access to our multi-employer network for contracting opportunities. Your growth potential is not limited by the skill or manpower available. No time or money spent on administration costs for health care and retirement plans. Organizational support for your business from a Union that understands Labor-Management Cooperation.
TESTIMONIALS
" We have improved our profitability and customer satisfaction since we started with the union. Our projects get completed on schedule, and the end product is top quality. We could not have accomplished as much as we have, in as short of a time, without being a Union Contractor." Patrick Duane, President Superior Mechanical Systems, Inc. — "Without the assistance of the SMWIA Training Programs, We could never keep up with the latest technologies in our industry. With the SMWIA as a partner, we can tell our clients, 'Yes We can do that.' Having access to trained personnel from the SMWIA has helped Stromberg open six offices on the East Coast." Bob Gawnes, CEO Stromberg Sheet Metal — " We do not have to negotiate with the health care providers, nor do we have to spend money on lawyers and investment companies to set up a pension plan for our employees. The most important value of this benefit is that we are able to spend more time bidding projects and winning more work." John B. Rihl, President Costa and Rihl Mechanical Contractors — " Being with the Union has made our company. We've had no growth constraints and they allow us to get as big or small as we need to with a phone call." Rick Heyn, President Bonner Sheet Metal