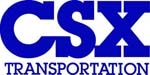 CSX Corp. laid off 52 management workers, all of them in Jacksonville, according to a company spokeswoman.
The company finished the round of layoffs Monday, spokeswoman Melanie Cost said.
"This is all related to the fact that we're in a competitive industry," she said. "The separation of the employees was difficult – it's a difficult decision."
Read the complete story at The Florida Times-Union.