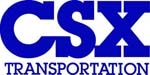 OMAHA, Neb. – CSX Corp. remains optimistic the railroad's profits will improve over the next two years even though coal demand has remained stubbornly weak.
Officials at the Jacksonville, Fla.-based railroad said Wednesday that shipments of intermodal containers and merchandise will continue to be a larger part of their business.
Read the complete story at The Modesto Bee.