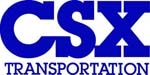 JACKSONVILLE, Fla. – Florida-based railroad operator CSX Corp. plans to cut 300 management workers, mostly through buyouts by the end of the year.
Most of the workers targeted are based at the company's Jacksonville headquarters. Spokeswoman Melanie Cost tells The Florida Times-Union that layoffs are possible if fewer than 300 workers take the buyouts.
Read the complete story at Television Station WESH.