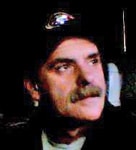 Carl Picanco stares at the radio on a table across the aisle and when nothing happens, he checks his watch and then taps his iPhone and glances at his watch again.
He looks out a window. The brush and desert scrub stretch out in brown and green waves toward the foothills outside Vail in southeastern Arizona.
Read the complete story at the Arizona Republic.
Picanco is a member of SMART Transportation Division Local 84 at Los Angeles, Calif.