At SMART Canada, our members are qualified professionals and certified tradespeople dedicated to all aspects of roofing, architectural cladding, custom sheet metal and complete ventilation systems. We partner with our signatory contractors across Canada to supply generations of hands-on experience and a commitment to safety on every project.
Our sheet metal members fabricate and install proper ventilation and air filtering systems to ensure the overall health of our schools, offices, hospitals, and homes. Our roofing and architectural members play a vital role in the building envelope by enhancing and protecting your investments.
Together, we are building healthy communities for a better tomorrow.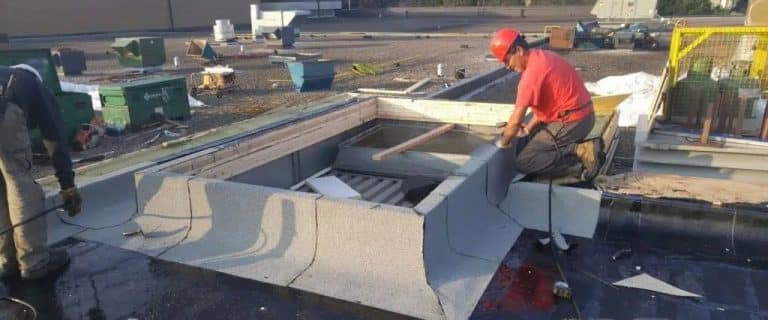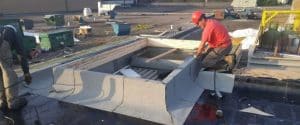 Our roofers are skilled tradespeople who install a waterproof membrane on buildings that have either a flat or sloped deck consisting of wood, steel, or concrete. They specialize in Residential, Industrial, Commercial and Industrial roofing. The systems are Conventional Tar and Gravel, 2-ply SBS, Inverted Roofing Systems, EPDM, and single-ply PVC. Green Roofing is now populating the skyline. Builders are installing green roofs on their projects not just because they are visually appealing, but to help reduce greenhouse gases and to improve air quality. As the Government looks to reduce emissions and retrofit buildings, the roofing sector will continue to thrive. It is also common to use a simple ply rubber membrane that is laid over rigid board insulation or to use rolls of modified bitumen paper applied by using a propane torch and melting the product over a flat surface.
Most crews in the Industrial Commercial and Institutional (ICI) roofing industry consist of five to eight workers that include a foreperson, two journeypersons, and the remainder of the crew consists of material handlers and apprentices. Roofers use many types of equipment to perform their work including overhead hoists, bobcats, asphalt kettles and conveyor belts. Strength, agility, and a willingness to work in extreme weather conditions are characteristics of the average roofer. Knowledge of the various types of roofing systems is also essential to a successful career in roofing.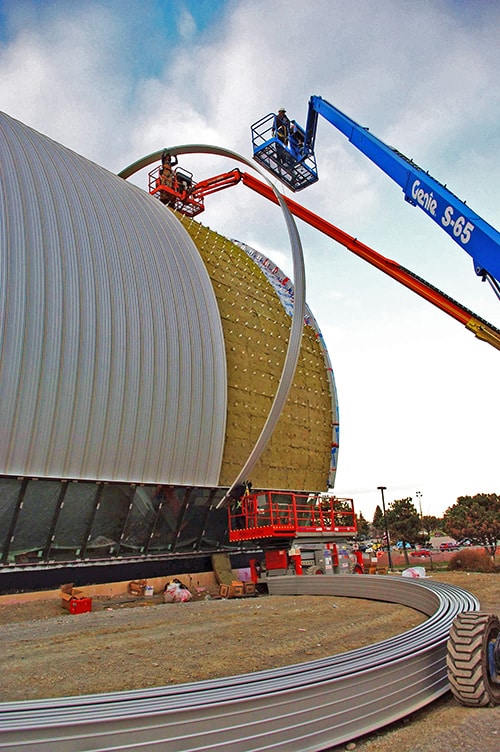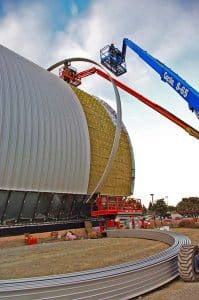 The work an architectural sheet metal worker performs is a combination of technical skill and artistry. Our members specialize in fastening and joining, managing expansion and contraction, sealing, and controlling moisture. This ensures the appearance and durability of buildings in the institutional, commercial, industrial, and residential sectors.
Our members perform siding and decking and are involved in the application of vapour and air barriers, insulation, specialized sheeting, architectural panel systems, cladding, and decking products on construction projects. Siding and Architectural panels typically appear as part of the outer shell of a building, while decking usually takes the form of sheets of metal placed on the beams that make up the building skeleton. A deck provides the structural support for a roofing system.


HVAC stands for heating, ventilation, and air conditioning.
Sheet metal workers fabricate and install ductwork for air handling systems. This can include spiral seam pipe air-conditioning and ventilation systems, shielded rooms to keep out sound or magnetism, and ducting for computer rooms where humidity and temperature control are essential. In addition to ductwork, sheet metal workers fabricate and install coping and flashing, filing cabinets and desks, kitchen equipment, metal roofs, siding, rain gutters, downspouts, skylights, customized precision equipment, and many other products made from metal sheets. The process of sheet metal work involves shearing, forming, fabricating, welding, soldering, and assembling a host of items made from galvanized iron, steel, copper, nickel alloy, stainless steel, aluminum and sometimes plastic. The work takes place on industrial, commercial, and institutional construction sites, industrial plants, and in the electrical power systems sector of the construction industry.
Shop work may involve setting up and operating fabricating machines to cut, bend and straighten sheet metal, shaping metal over anvils, blocks or forms using a hammer; operating soldering and welding equipment to join sheet metal parts, or inspecting, assembling, and smoothing seams and joints of burred surfaces.
Our members work on high-volume mechanical systems. These systems deliver heated and cooled air to commercial buildings such as schools, hospitals, airports, factories, and office buildings. These projects enhance the quality of life and safe breathing for people from across every walk of life.
Some of the responsibilities of a sheet metal worker include (but are not limited to):
Reading blueprints and specifications
Layout and fabrication
Installation of HVAC (Heating, Ventilation, Air Conditioning) systems
Altering existing systems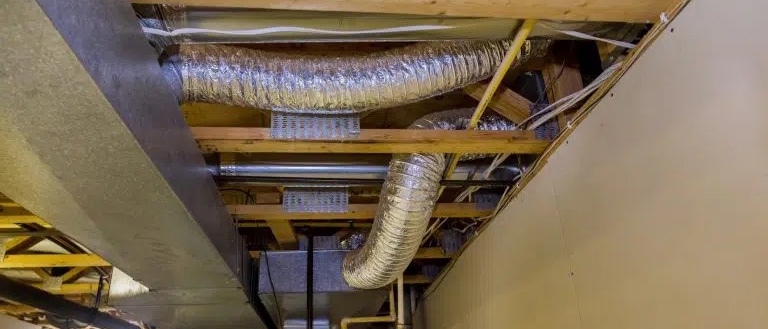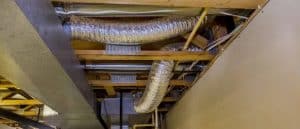 HVAC stands for heating, ventilation, and air conditioning.
Residential sheet metal workers fabricate, install and service complete residential HVAC systems in a wide variety of residences including single-family homes, townhomes, and apartment buildings. They also work on duct systems for existing buildings to remodel, upgrade or troubleshoot.
Sheet metal workers fabricate, assemble, and install a variety of sheet metal products. Typical jobs performed by a residential sheet metal worker include (but are not limited to):
Low-rise housing furnace and duct installations
Hi-Velocity
Heating and ventilations systems in high-rise condominiums
Shop fabrication
A sheet metal worker remains one of the only building tradespersons to start with a raw piece of material, custom fabricate it and install it. Residential sheet metal workers work in shops or on job sites in the high-rise or low-rise sector.
Some of the responsibilities of a residential sheet metal worker include (but are not limited to):
Reading blueprints and specifications
Layout and fabrication
Installation of HVAC (Heating, Ventilation, Air Conditioning) systems
Altering existing systems
Our gas technicians are engaged in all aspects of installations. Typical jobs performed by a gas technician are (but not limited to):
Install pipelines for all types of gas fired equipment, such as:

Furnaces
Water heaters
Barbeques
Dryers
Stoves

Venting of combustion flue gases
Combustion air piping requirements for these appliances
Servicing gas fired equipment
Attention to detail and following code and regulations are why gas technicians must be highly trained in a skillful, safe, and efficient manner to keep them ahead of the curve in this continuously changing industry.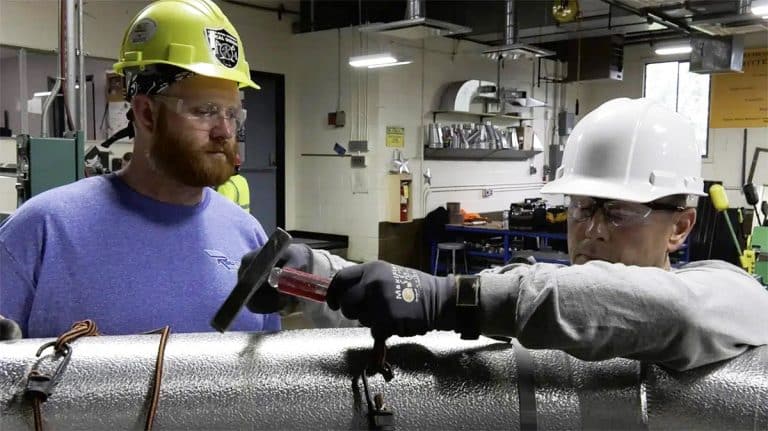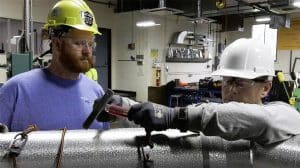 Lagging is the finishing material (such as steel, aluminum, or other materials) used to cover many types of insulation, especially on large flat surfaces such as boiler walls, flues, ducts, precipitators, selective catalytic reduction systems, baghouses, wind boxes or fans. Insulation and metal lagging of mechanical system components includes flat work, round work, pressure vessels and specialty components. Also known as cladding or sheet metal, lagging ranges in thickness from .016-inch and greater.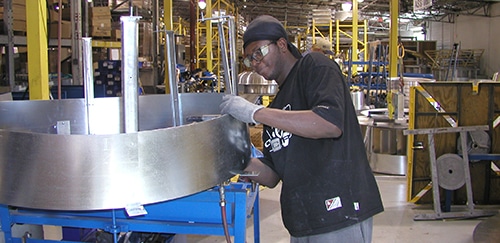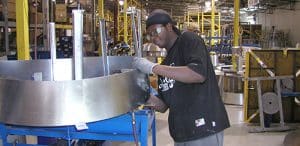 Production and manufacturing is the creation or production of goods from components or raw material with the help of equipment, labour, machines, and tools. The term may refer to a range of work, from handcraft to high-tech, but it is most commonly applied to industrial design in which raw materials from the primary sector are transformed into finished goods on a large scale. Fabrication of all types of sheet metal, plastics, fiberglass, and other materials are used in a multitude of products.
Opportunities in this field include but are not limited to:
Welding
Presses
C&C machines
Forklifts
Cranes
Warehouse
SMART members manufacture residential and commercial kitchen cooking equipment, refrigerators and freezers, air movement and heating and cooling equipment, tractor-towed trailers, bulk milk storage coolers, steel storage buildings and garage doors, outdoor and indoor signage, sheet metal fabrications for farm and industrial vehicles, canning and food storage containers, and steel shelving systems.
Work in sheet metal manufacturing includes sheet metal fabrication and blueprint reading; fabrication equipment programming; MIG, TIG, stick and flux-core welding and polishing; registered journey programs in industrial facility maintenance, electrical, and tool and die work; manufacturing assembly, refrigeration, and refrigerant reclamation; brazing and soldering; CDL accreditation and semi-truck operations; and material handling.