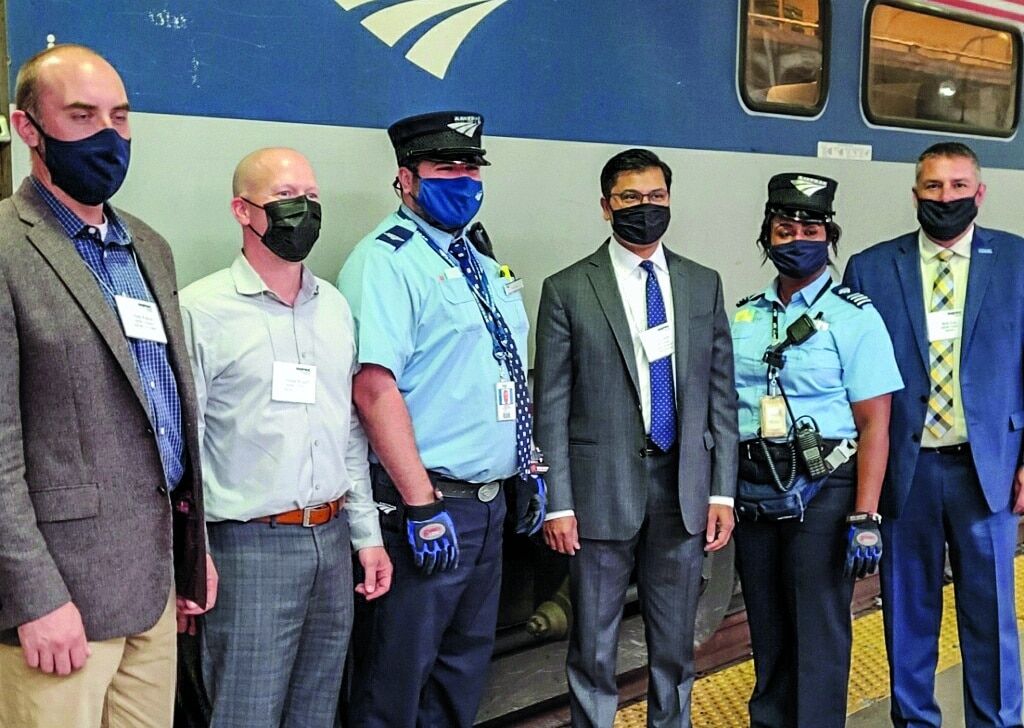 From left: SMART Transportation Division Minnesota State Legislative Director Nick Katich, Michigan SLD Don Roach, Amtrak employee Stefan Schweitzer, then-FRA Deputy Administrator Amit Bose, TD Local State Legislative Director L68 (Chicago, Ill.) member Keisha Hamb-Grover and Illinois State Legislative Director Bob Guy stand at Chicago's Union Station on Oct. 13.
---
Amit Bose, who has been serving the Biden administration as acting administrator of the Federal Railroad Administration (FRA) since February 2021, was confirmed Jan. 12 by the U.S. Senate to become full administrator. This was a bipartisan vote, 68–29.
Bose's nomination by President Joe Biden had been put on hold by Republican U.S. Sen. Rick Scott of Florida after it had cleared the U.S. Senate's Commerce, Science and Transportation Committee on Oct. 20, 2021.
"We are pleased and excited to continue our collaboration with Administrator Bose and the FRA as we press ahead on important safety issues such as regulating freight crew size," SMART Transportation Division President Jeremy Ferguson said. "Our National Legislative Department and other members of our legislative team have had numerous conversations with Administrator Bose while serving in an acting capacity. We look to build upon the positive relationship that's been established and on the progress that has been made already, and we congratulate him on his overdue confirmation."
"We've had productive dialogue from the start with Administrator Bose — rail safety is back on the table."

– SMART TD National Legislative Director Gregory Hynes
During his tenure, Bose already has shown that rail labor's input will be sought, rather than disregarded by the FRA. Under the Biden administration, the FRA has publicly announced that it plans to reopen the Notice of Proposed Rulemaking (NPRM) regarding the regulation of a minimum freight crew size.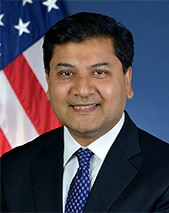 Bose was a guest during the October call of SMART TD state legislative directors and made it clear that the agency will prioritize cooperative efforts between labor and the federal government, such as the Confidential Close Call Reporting System (C3RS), the newly rechartered Rail Safety Advisory Committee (RSAC) and Fatality Analysis of Maintenance-of-way Employees and Signalmen group.
"The lines of communication between labor and FRA have been open ever since his nomination," National Legislative Director Gregory Hynes said. "We've had productive dialogue from the start with Administrator Bose — rail safety is back on the table."
Bose has years of experience serving in the public sector. He has served two stints as FRA deputy administrator and has served as FRA chief counsel, U.S. Department of Transportation (USDOT) associate general counsel and USDOT deputy assistant secretary for governmental affairs, including with former Federal Railroad Administrator and SMART TD Illinois State Legislative Director Joe Szabo of Local 1290 (Chicago).
In addition to living along the Northeast Corridor in West Windsor, N.J., and working for New Jersey Transit, Bose helped establish and later served on the Northeast Corridor Commission. He also participated in structuring the commission's cost allocation policy, helped the USDOT deliver a $2.5 billion Railroad Rehabilitation and Infrastructure Financing (RRIF) loan to Amtrak for its next generation of Acela rail cars, and worked on the environmental review of a number of projects.