Local 30, Jacksonville, Fla.
Two Amtrak conductors were recognized by the carrier's Southern Division News after their actions resulted in the arrest of a New York murder suspect, Secretary & Treasurer David K. Lee reports. Bruce Brown and Jeremy Lindstam contacted Amtrak Police Det. Steve Chambers after a passenger reported to them a conversation overheard by the suspect in Spanish in which he supposedly discussed the murder. Brown was able to identify the suspect using his e-ticketing mobile device after the suspect approached him regarding the train's arrival time. He was later arrested by U.S. marshals. "It was shocking that someone like that was on the train, but I was glad we were able to help apprehend him," Brown said.
Local 196, Beardstown, Ill.
Local Chairperson Robert C. Taylor reports that Richard Whiteman, 64, is retiring after 10 years of service. "Rich started out kind of late on the railroad, but we all wish him the very best in his retirement," Taylor said.
Local 199, Creston, Iowa
This BNSF Railway local, in December, held a retirement party for numerous members and former members who retired in 2012, Local Chairperson Billi Vavra reports. In other news, Vavra also noted the deaths of former retired Local President Dale Weeds and retired member Edwin Roberts.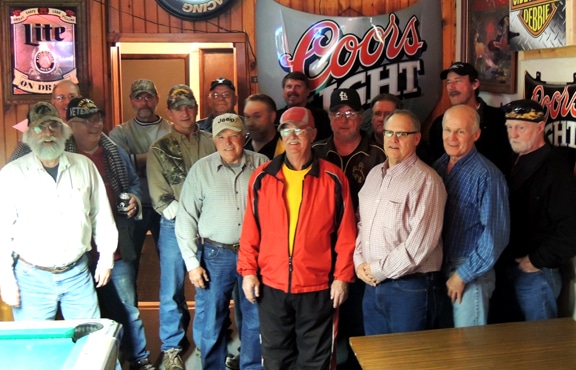 Pictured at the 2012 retirement party, from left, are Dennis C. Gross, Vic Sloan, Bob Culberson,
Roger Jackson, Bruce Brown, Bob "Nummy" Williams (back), Keith Hoepker (front), Mark Bacon,
Rich Springer (back), Keith Moore (front), Butch Penno, Jim Mason, Rick Van Pelt, Randy Goodrich (back),
Mark Hayes (front) and Roger Fry.
Local 498, Allentown, Pa.
This CSX local has established a website at www.utusmart498.org, webmaster and Vice Local Chairperson Joanna Sedler reports. Areas on the site include News & Topics, Penalty & Claim Q&A and Safety Concerns, as well as the local's monthly meeting schedule. Members should contact a board member to access the site's password-protected area.
Local 594, Mineola, Texas
At a joint meeting of Locals 439, 594 and 976 March 4 in Longview, Texas, International Vice President Troy Johnson and GO 927 General Chairperson Steve Simpson presented engineer and Local Chairperson Ronnie Burris with a pin commemorating 40 years of active rail service.
Local 607, Thayer, Mo.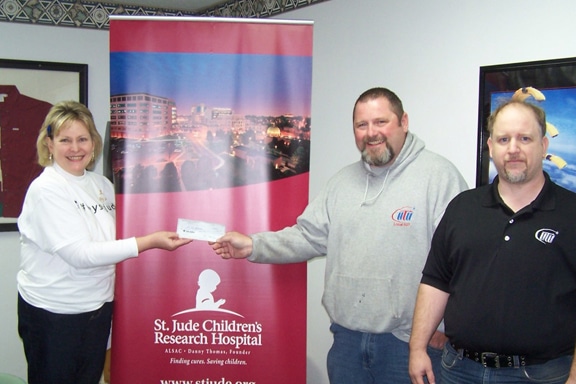 Vice Local Chairperson Fred Komm, center, and Local Chairperson Doug Cozort present a check
in the amount of $500 Feb. 13 to radio station KKountry 95 (KAMS) Manager Lynn Hobbs
during the station's annual radiothon in support of St. Jude Children's Research Hospital in Memphis, Tenn.Local President Chris Skaggs said the local has supported the hospital through the radio station for the past five years.
Local 662, Richmond, Va.
Former Secretary & Treasurer Jimmy Galbraith reports that Sam and Steve's House of Beef, located at 10753 Jefferson Ave. in Newport News, was chosen as the local's new meeting location during odd-numbered months. A 6 p.m. social hour will precede the 7 p.m. meetings. Meetings during even-numbered months will remain at Carini Italian Restaurant, located at 3718 Williamsburg Rd. in Richmond, at the times above. Following adoption of new bylaws separating the offices of local secretary and treasurer, the local will be holding a special election to fill the local secretary position. In other "good news for our members," Galbraith said that CSX announced many furloughed trainmen will be called back to work by the end of the second quarter, 2013.
Local 1557, Memphis, Tenn.
Ronald Dunn, 42, lost his foot in a switching accident early Feb. 28 at the Canadian National/Illinois Central's Johnson Yard in Memphis, Tenn. Dunn, who had a UTU seniority date of less than one year, has been in therapy at the Rehabilitation Institute of Saint Louis.
Local 1957, Silsbee, Texas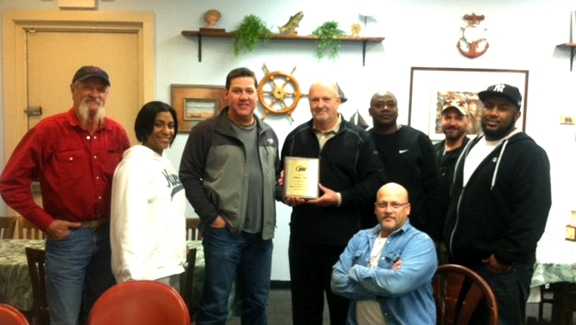 State Legislative Director Connie English presents a plaque to Local Legislative Rep. Roy McLeod
and members of this BNSF Railway local for their outstanding PAC contributions per person.
"Roy and Vice Local Chairperson Jeremy McCart have worked hard signing up the local's membership in
Beaumont, Lafayette, Conroe and Longview for contributions to our PAC," said Secretary & Treasurer Steve Soffes. Pictured, from left, are Local Chairperson James "Mike" Wilson, April Blaze, McLeod, English,
Gerald Maze, Sean Gaffney, Mario Gobert Sr. and Soffes (seated).
CSX GO 347
This general committee of adjustment has established a website for CSX yardmasters and for a number of short line railroads that fall under the committee's jurisdiction, webmaster Steve Cline reports. The site can be found at www.go347.org and contains news, officer contact information, agreements, claim forms and other information.
Long Island Rail Road GO 505
The UTU's Long Island Rail Road General Committee of Adjustment is hosting its annual golf classic May 13 to benefit families on Long Island affected by autism. The gold classic will tee off at 9:30 a.m. at the Hamlet Wind Watch Golf & Country Club in Hauppauge, N.Y., and GO 505 is seeking both sponsors and participants for the event. The cost for participation in the tournament is $225 per person, which includes breakfast, 18 holes of golf with cart, drinks, snacks, cocktails and buffet dinner with dessert. A registration form for participants and sponsors can be found at www.utulocal645.com by clicking on the Social Events tab. For more information, contact GO 505 Vice General Chairperson Vinnie Tessitore at (631) 661-3500.