Anaheim 2013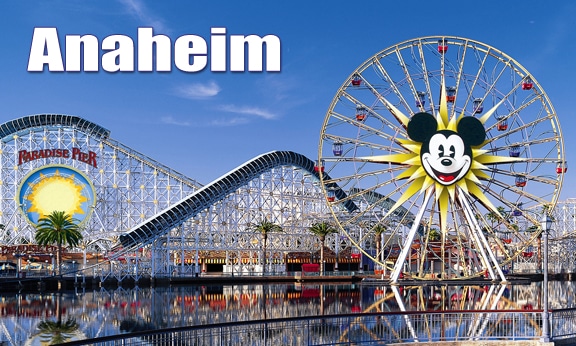 Anaheim, California
July 29-31, 2013

Host hotel: Hilton Anaheim
777 Convention Way
Anaheim, CA 92802

Rate: Rates valid Monday, July 22, through Friday, August 3, based upon availability.
Single/double ($140), plus state and local taxes.

Hotel reservations:
Make your room reservations online

Room reservation deadline: June 25, 2013

Telephone numbers:
Hotel: (714) 750-4321
Toll-free reservations: (877) 776-4932
Reservation code is SMT

Parking: Valet parking: $22;
Self park: $16

Anaheim information:
Anaheim/Orange County Convention
and Visitors Bureau

Car rental information:
Rent from Avis online or call
(800) 331-1600. UTU discount number
is D150699.

UTU meeting online registration:
Register online

UTU meeting registration:
Mail-in form (check, credit card or money order)

Meeting agenda: Anaheim

Airline discounts

United Airlines
United Airlines offers discounts off published fares up to 10 percent or zone fares for the Anaheim, Calif., regional meeting. Call your travel professional or United at (800) 468-7022 for reservations. Refer to Z Code (ZNJA) and Agreement Code (314218). There will be a $25 service fee collected, per ticket, for all tickets issued through United Airlines ticketing facility. Or, save an additional three percent by booking your own reservations at www.united.com. Choose your flight times and access your meeting discounts by inserting the Z Code and Agreement Code in the Offer Code box, without a space between the two codes (ZNJA314218).

Disneyland discounts

Good news! Union Plus Disney discounts are once again available for working families. Find dozens of ways to enjoy fun savings good at both Disneyland® and Disney World®. If you're planning on bringing family members to the Anaheim regional meeting, you'll definitely want to check this out. It's a great opportunity for a family vacation.

Spouse Tours

Queen Mary and Long Beach Aquarium
Sunday, July 28

Guests will delve into the depths of the coastal city of Long Beach while touring a historic ocean liner and an exciting waterfront aquarium. The Queen Mary, a daunting vessel originally launched in 1936, has come to reside in the picturesque waters of Long Beach. Her 1,019 feet are laden with treasures, including 14 remarkable Art Deco salons, each uniquely decorated with warm wood paneling, highlighted by original paintings and larger-than-life murals, brass and nickel-silver fixtures and etched leaded glass accents. From the depths of the boiler room to the calm waters of the first-class pool the Queen has many a supernatural story to tell. Steps away from The Queen Mary lies The Aquarium of the Pacific, one of the largest aquariums in the United designed to take visitors on a journey throughout the Pacific Ocean's three regions: Southern California/Baja; the Tropical Pacific and the Northern Pacific. Guests are free to explore the many exhibits and galleries where they come face-to-face with over 12,000 ocean animals from playful sea lions to mysterious jellies and even sharks! Lunch included.

Orange County Shopping Excursion
Monday, July 29

The beautiful coastal community of Orange County is known not only for its mild climate and scenic landscape, but for the ultimate shopping opportunities that dot the hills and coastline. On this day, Destination Concepts presents a shopping excursion to some of the premiere centers that call this Southern California city home. Guests will enjoy perusing designer names at remarkable prices. South Coast Plaza features offerings from around the globe, each more spectacular than the next; an unparalleled selection of firsts and foremosts. Destinations of distinction include internationally acclaimed retail royalty such as Abercromie & Fitch, Chanel, Christian Dior, Donna Karan, Gucci, Mont Blanc, Ralph Lauren and more. A shopper's paradise, noted in prominent travel books such as Fodor's, Frommer's, and Fielding's, South Coast Plaza also features an array of restaurants recognized in Zagat, the highly respected national dining guide. Lunch included.

Golf Tournament

The Anaheim regional meeting golf tournament will be held Sunday, July 28, at Coyote Hills Golf Course at 1440 E. Bastanchury Rd. in Fullerton, Calif. Phone (714) 672-6800. It will be an 8 a.m. shotgun start. The cost is $80 per person, which includes greens fees for 18 holes of golf, half a cart, range balls, prizes and bus transportation from and to the Anaheim Hilton. Space is limited; first come, first served. For course information, visit www.coyotehillsgc.com.