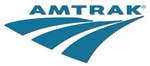 Amtrak's CEO says passenger rail service in Southeastern Colorado is more important than some other amenities such as chocolates on the pillows for long-distance travelers.
"Our most essential goal is to ensure Amtrak continues to serve small town America that is being abandoned by airlines and bus companies, and keep communities such as Trinidad and La Junta . . . connected by rail to the rest of the nation," CEO Joe Boardman said in a news release.
Read the complete story at The Pueblo Chieftain.