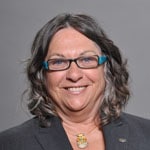 By Bonnie Morr, 
Vice President, Bus – 
The AFL-CIO held its convention from Sept. 8-11, 2013. The International Association of Sheet Metal, Air, Rail and Transportation Workers had a large delegation in attendance from both the Transportation Division and the Sheet Metal Division.
During the convention, many resolutions were passed, some of which will have a tremendous impact on our membership. One of the most important resolutions had to do with the Patient Protection and Affordable Care Act (ACA), which will have an impact on the medical insurance coverage of many of our members.
Many of us negotiate our medical insurance directly with our employer. Our negotiations take into consideration the costs of the health care coverage, as well as the benefits these packages provide. Within the ACA, certain benefits have been set at lower levels than some of us currently have. The annual cap may be better, but the levels of coverage may be less.
General President Joe Nigro addressed the leadership and the entire delegation of the AFL-CIO, stating that what we want is the protection of every worker, their families and the Taft-Hartley Trusts. Following a standing ovation, the AFL-CIO National Convention Sept. 11 debated and passed two health care resolutions, one calling for a universal, single-payer health care system and another protecting and expanding Medicare benefits under the Affordable Care Act.
One amendment passed that should have an important impact for SMART members calls for AFL-CIO unions to cease raiding the membership of other affiliated unions. This was an actual amendment to the AFL-CIO Constitution. Other issues addressed included workers' rights, raising wages, improving retirement security and expanding protection of our collective bargaining rights. Delegates also voted unanimously to protect 13(c) provisions that protect the right to negotiate all areas subject to one's working relationship with an employer and protect wages and benefits when work is transferred to new employers.
Let's all continue to work together to build a stronger labor force.