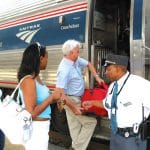 The livelihoods of thousands of transportation workers have been disrupted by COVID since its onset this past spring.
Our brothers and sisters at Amtrak are the latest to have their lives upended by this pandemic.
Nearly 2,000 of the carrier's unionized workers, including 500 SMART brothers and sisters were targeted recent furloughs that are to go into effect on November 1.
To make matters worse, Amtrak is cutting service at a moment when people in the Midwest and others who may not feel comfortable flying need an alternative and accessible means of transport that only Amtrak can provide.
Click here to take action today.