Transportation Division Vice President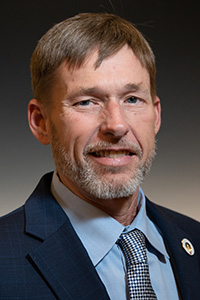 John D. Whitaker III was born Nov. 16, 1972, and began his railroad career in 1997 with CSX Transportation as a conductor. He was promoted to engineer in 2002. A member of SMART Transportation Division Local 1106 in Rocky Mount, N.C., he was elected to the position of local chairperson for engineers in 2002.
After gaining four years of experience as local chairperson, he ran for the office of vice general chairperson for CSX General Committee of Adjustment GO-851 and was elected effective January 2006. Whitaker maintained that position through March 2011, at which time he was elected general chairperson for GO-851, which represents approximately 2,000 members on the former Seaboard Coast Line, CSX Transportation, Florida East Coast Railway, Winston-Salem Southbound Railway, High Point Thomasville & Benton Railroad, Georgia Railroad, South Carolina Public Railway Commission and South Carolina Central Railroad, covering six states.
In October 2013, Whitaker was appointed alternate to the executive board and was elected by Transportation Division delegates for another term in 2014. In December 2014, he was elevated to the position of Transportation Division alternate vice president. Whitaker was elected to the board of the SMART TD Association of General Chairpersons (Dist. 1) in 2016. He was then elevated to the position of vice president in April 2019, upon the retirement of Dave Wier and was elected to that position at the Second Transportation Division Convention in August 2019.
Whitaker and his wife, Melissa, reside in Jacksonville, Fla., with their three sons, Chase, Russell and Nicholas.