President, Transportation Division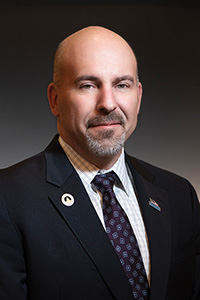 President Jeremy Ferguson, a member of Local 313 in Grand Rapids, Mich., was born in 1970.
After serving in the U.S. Army and attending college, he started railroading in 1994 as a conductor on CSX at Grand Rapids, Mich. He was promoted to engineer in 1995.
Ferguson was elected local legislative representative in 1995; local chairperson in 1996, and secretary of the CSX/B&O General Committee, GO 049 in Jacksonville, Fla., in 2007.
He was elected second vice general chairperson in 2008 and first vice general chairperson in 2011. At the first SMART Transportation Division convention in 2014, Ferguson was elected to the position of vice president.
At the Second SMART TD Convention on August 11, 2019, he defeated two other candidates and was elected president — Transportation Division.
Ferguson also served as special representative and organizer for the United Transportation Union starting in 1997.
He is the father of two children and resides in Sparta, Mich.