Expanding our union's market share of work and organizing new members are two of SMART's top priorities. Our strength in negotiations and our ability to enhance the wages and benefits for all members are directly affected by our union density and market share. When it comes to union bargaining power, our strength in numbers is the most important factor in advancing the work of our union.
SMART promotes organizing through a number of ways, including but not limited to:
Assisting local unions in reaching out to non-union workers and employers.
Providing financial assistance to Local Unions that expend resources in recruiting new members and employers.
Assisting SM Local Unions through the innovative Youth to Youth program which allows apprentices to learn more about organizing in the growth of the union through campaigns and other activities directed at non-union employers.
Employing multi-faceted strategic campaigns that focus on larger employers who operate in multi-state and multinational areas.
Working with other unions in pursuing whole industries for unionization.
COMET Training for the entire membership, which teaches and empowers members to become volunteer organizers active in increasing unionization within their industries.
SMART sheet metal workers do more than building and construction work.  Production sheet metal work constitutes a major segment of the industry.  It involves building components for various manufactured products, working in high-tech plants, fabricating sheet metal for complex industrial and commercial air handling equipment, military applications, residential uses, kitchen equipment, fermenting tanks, industrial fans, aircraft components and many other sheet metal products.
Sheet metal production workers make up a significant portion of the SMART membership. These members enjoy good wages, benefits and safe working conditions.
Through our Governmental Affairs Department, SMART empowers members in the halls of power, whether it be on the local, state or federal level. The department promotes the interests of members and working families on issues such as prevailing wages, health and safety, retirement, new work opportunities and support for emerging markets.
At a time when large corporations have an outsized say in government, the SMART Governmental Affairs Department acts as a means of leveling the legislative and regulatory playing field for workers.
More specifically, the department is working for you, as a SMART member, by:
Promoting the interests of SMART sheet metal workers at work among key members of all political parties in the United States and Canada.
Building coalitions with like-minded unions, religious and political organizations.
Supporting the campaigns of elected officials who devote themselves to working family interests.
Educating SMART members about important issues affecting their lives.
Establishing voter turnout and legislative efforts that support politicians allied with the cause of working families.
Raising money through voluntary contributions from members and using those funds to help elect political leaders who are sympathetic to our causes, regardless of political party.
The SMART Education Department provides a variety of online and in-person training programs for full-time representatives, organizers and rank-and-file membership.  International organizers and representatives share their experiences and offer best practices on issues from organizing strategies to bargaining a first contract. Core classes in representation, organizing and leadership development are offered regularly throughout the United States and Canada, as well as trainings for union members, such as stewards training and Youth-to-Youth orientations offered in local union locations. Other priorities include a series on mental health and wellness, substance abuse, suicide prevention and peer mentor training.
SMART has local union affiliates established in every province across Canada.
Local unions represent sheet metal and roofing members in the construction industry. In addition, members are represented in the manufacturing and shipyard industries.
The director of Canadian affairs works with a number of international representatives who are resident in the various regions of Canada to provide ongoing support to the local unions. In addition, the department maintains relations with the Canadian Labour Congress (CLC), representing SMART at conventions, conferences, and other meetings of the CLC.
This system of representation allows the local unions to operate on their own, but, when required, SMART may offer additional assistance to ensure the best possible representation of both the local union and its members.
All local unions bargain periodically with their signatory contractors to achieve the best possible contract for their membership. Some of the issues that are bargained include wage rates, health benefits, pension benefits, hours of work and health and safety issues.
These agreements apply to both apprentices and journeypersons in the construction sector.
Apprenticeship programs are offered in all provinces and play a vital role in supplying skilled trades people to this industry. All sheet metal building trades unions have apprenticeship programs in place and put a significant emphasis on training.
Normally, these apprenticeship programs are four or five years in duration. In addition, journeyperson upgrading training is made available, along with health and safety programs.
Union sheet metal workers work in freight and passenger rail transportation, including commuter railroads. They maintain and rebuild locomotives that move freight, long distance passenger train equipment and equipment used in commuter rail service.
Additionally, members of the sheet metal craft maintain heating and ventilation systems, pipe-fitting and plumbing within the railroad shops, yards and buildings. When it comes to America's transportation infrastructure, SMART members not only operate it, they also maintain the systems that deliver passengers and a wide range of materials (hazardous and non-hazardous) across North America to their points of usage.
Union activists and leaders need accurate information, supporting organizing and collective bargaining efforts and informing union members about developments that affect their rights and well-being in the workplace and in their communities.  The SMART Communications Department  services these groups and also assists members and union leaders in telling their stories about the work they do, the vital services they provide, and the benefits their work provides to their local communities.
From websites and newsletters, to other publications such as The Members' Journal, to videos and podcasts, this department uses a variety of methods, materials and technologies to disseminate the union's messages clearly and effectively to media outlets, trade publications, the general public and other interested organizations. It is also on the cutting edge of new technologies and processes, such as streaming video and audio, text messaging and social media, with a multi-faceted website at smart-union.org that includes a Members Only section. The site is also where users can subscribe to the union's e-mail messaging program. Members can also text the word SMART to 67336 (message and data rates may apply) to stay up to date via their mobile phones as well.
Our goal is to ensure that SMART members speak with one voice, in solidarity, on the issues that matter most to them in the workplace.
The SMART Legal Department provides a number of important tasks such as advising the general president, the general secretary-treasurer and the General Executive Council on all litigation and legal matters affecting SMART and its membership.
The department also serves a number of other important functions, such as:
Providing legal support to the SMART international staff in the field on jurisdictional, organizing and other particular issues.
Assisting local unions with legal issues relating to their representation of SMART members.
Teaching labor law concepts at online and in-person seminars sponsored by the SMART Education Department.
The Legal Department relies on local union business representatives and local stewards to handle most workplace problems. In the event legal advice is required, the appropriate business representative or business manager will contact SMART's legal counsel.
The overall mission of SMART Jurisdiction Department is to service all local unions in the United States and Canada in all matters related to trade and jurisdiction. This includes identifying work that is traditionally performed by sheet metal workers, as well as helping to find new markets that are created due to technological changes in our industry. This helps ensure that a greater number of work opportunities are available to our members.
In addition, the department negotiates and develops national agreements related to our trade and works with other international unions on all matters related to craft jurisdiction. At the direction of the general president and the general secretary-treasurer, this department also provides services related to many other SMART Constitution issues affecting members and local unions.
This department provides support to the TD President in his duties to provide service and representation to the Transportation Division's thousands of members. It provides information on a diverse array of topics from national health and welfare plans, interpretation of the union constitution, local agreements and the operation of all aspects of the union, such as local administration and bylaws.
SMART TD has one of the most extensive legislative organizations in the labor movement, with a national director, assistant national legislative director and staff headquartered in Washington, D.C.
In the United States, 49 of 50 states, plus the District of Columbia, have legislative boards made up of local legislative representatives and headed by a director. This efficient legislative organization allows SMART TD to mount effective, coordinated campaigns at the federal and state levels.
Among the important laws passed or amended because of SMART TD action are the Railway Labor Act, the Railroad Unemployment Insurance Act, the Railroad Retirement Act, the Federal Employers' Liability Act, the Federal Hours of Service Act, the Rail Safety Act, the Motor Carrier Safety Act and the Mass Transportation Act.
The TD national legislative director in Washington, D.C., acts as the union's chief legislative and political officer who coordinates the activities of state legislative directors, acts as a liaison with national lawmakers, keeps voting records on legislators and furnishes recommendations and reports to the SMART TD president and membership.
State legislative directors, who serve as the leaders of their respective states' legislative boards, convene quadrennially (every four years) to coordinate their efforts to secure the enactment, repeal or modification of laws and regulations to ensure the protection and welfare of SMART members, exchange information and recommend a legislative agenda. Four elected officers – a chairperson, vice chairperson, a secretary and a treasurer – lead this association.
The five members of the Transportation Division Board of Appeals hear cases and resolve conflicts in union-related matters when needed. These officers are elected every five years during the SMART TD Convention.
The TD Local Support Department assists local officers with the operational and fiduciary duties of running their local in a manner that complies with local, state and federal laws and requirements. Department staff work in close conjunction with local secretaries and treasurers and are available through many mediums to offer guidance while constantly working to educate both veteran and new officers on how to perform union business smoothly and effectively.
The TD Legal Department, led by the union's general counsel, primarily advises officers of the Transportation Division on emerging litigation and ongoing legal matters involving the union, argues cases involving the organization as a whole in court and provides counsel.
The Public Relations Department tells the union's story to people both inside and outside the union as well as through the SMART TD newspaper, the union website and via its social media platforms. The department also is in charge of administering the TD Alumni Association and has a hand in all communication efforts spanning the entirety of the union.
The TD Updating Department handles changes in member status and member information, such as changes of addresses or reports of an active member's or retiree's death that are submitted to the union either through an officer, such as a local secretary, or directly to the TD office.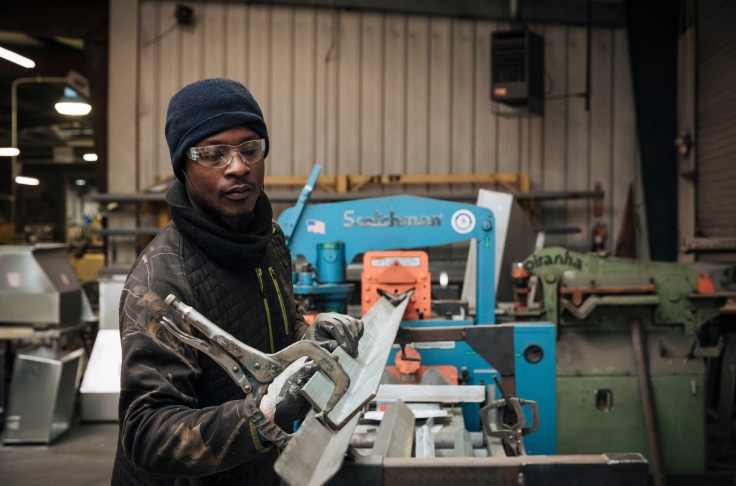 Become a SMART Member
Take the next step on your journey towards a rewarding career. Learn how you can become a SMART member.
Member Voices
Hear about the Union directly from SMART Union members themselves.
Meet Carol Jones
Longtime Amtrak conductor Carol Jones — who is also a local chairperson with SMART-TD Local 1361 out of New Haven, Conn. — shares her story of coming up in the transportation industry and working as a pioneering woman in the passenger rail sector.