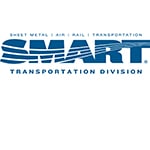 March 20, 2020
All Members — SMART Transportation Division
Dear Brothers and Sisters:
I would like to begin by recognizing those of you who, in the face of this global COVID-19 pandemic, are continuing to serve the millions of Americans who depend on us and the services we provide every day.
If not for our bus operators, passenger and transit workers, families without alternate means of transportation might not have access to basic necessities such as food, cleaning supplies and medical attention, while essential staff in urban areas might not be able to report to work. If not for our freight rail crews operating around the clock, many of the vital goods and supplies our communities and healthcare professionals so desperately need and depend on would arrive late, or perhaps not at all.
It is impossible to overstate the fact that your dedication, professionalism, and skills support the very backbone of our country during this moment of crisis. Not only do we feel a duty to provide for ourselves and our loved ones through this difficult and uncertain time, but we are bound by our moral obligation to provide essential goods and services that our nation must have to endure, and later recover, from this ordeal.
Unfortunately, we have already received confirmed reports that some of our members have tested positive for COVID-19. Our thoughts and prayers are with those members, and their loved ones, who have either tested positive or are in quarantine. If you or someone you know is having difficulty dealing with the stress or anxiety brought on by this virus, we want you to know that Optum has established a no-cost, 24/7, emotional support help line at 1-866-342-6892. Please share this information accordingly.
It is unconscionable that in the wake of a national emergency, some of our carriers have refused to suspend draconian attendance policies that compel us to report for duty when we, or members of our household, are symptomatic. Many of those same carriers are neglecting to provide the proper cleaning supplies, personal protective equipment, and workplace sterilization that would undoubtedly save lives. Their actions, or lack thereof, are reminiscent of the railroad companies' safety policies of more than a century ago, where they viewed such matters as the workers' responsibility to fend for themselves, and they made the bare minimum effort by issuing stern, authoritarian warnings. We firmly believe history will not look kindly on these carriers. The good news is a few carriers are actually leading the way and setting the bar at "unbelievable levels," as reported by Long Island Railroad General Chairperson Anthony Simon. We hope others will soon follow.
As a result of the above, and as you can see in links to correspondence provided below, we have turned to our lawmakers and regulatory agencies with authority to mandate the workplace protections we so desperately expect and deserve. In his letter dated March 11, 2020, Ronald Batory, Administrator of the Federal Railroad Administration, claims that, "FRA has been monitoring this issue closely and confers regularly on its impacts with railroad service providers…." [emphasis added]. Further, Mr. Batory advised that… "[t]he Administration has taken a whole-of-government approach which has paved the way for a whole-of-America response…." If you find this response as abhorrent as we do, then perhaps you may join us in seeking further clarification from Mr. Batory by calling his office at (202) 493-6014.
On March 18, 2020, we made similar demands on behalf of our bus members in a letter addressed to Raymond P. Martinez, Administrator of the Federal Motor Carrier Safety Administration. While we have yet to receive a response from Mr. Martinez, it may help if we call his office at (202) 366-4000 and voice our concerns.
Our National Legislative Department, in conjunction with the Transportation Trades Department, AFL-CIO and other rail labor Organizations, have been on Capitol Hill relentlessly demanding many of these same protections. Through this conduit, we are doing everything we can to ensure that Congress will not overlook the rail industry and its employees when legislation is introduced to provide relief to those affected by COVID-19. Likewise, our General Committees of Adjustment and State Legislative Boards have been working tirelessly to apply similar pressure to individual carriers, state and local lawmakers, and regulatory agencies.
To assist our Legislative Department and General Committees in their efforts, we strongly encourage you to reach out to your representatives. It is more important than ever to draw their attention to the fact that our employers and policymakers are relinquishing their duties to act as responsible corporate citizens and government agencies. If you are not already aware, you may find your representatives' contact information by simply entering your address and zip code in the "Find Your Elected Officials" field at the bottom of the following webpage:
https://www.congressweb.com/SMART_Transportation/takeaction/#
In addition to the above efforts, we have participated in numerous conference calls and meetings to directly address and escalate these matters with members of management, Congress, and regulatory authorities. As you might imagine, the discourse in some of these conversations would not be appropriate for sharing verbatim. Nonetheless, you should rest assured they know exactly where we stand, and what we expect.
Now more than ever, I am honored and humbled to serve as your President. I have an immense sense of pride and respect for all of you who continue to place yourselves in harm's way, doing what many are not capable of doing. Please accept this letter as my personal commitment that your union will not cease or slow its efforts until we procure the workplace safety and security we deserve.
As things develop, we will be posting updates to our website and social media pages, and sending email communications directly to those of you who subscribe.
With optimism that our collective perseverance and courage will guide us through this trying time, and with my sincerest gratitude for your continued support, I remain
Fraternally yours,

Jeremy Ferguson
President — Transportation Division
COVID-19 RESOURCES