Two-person crews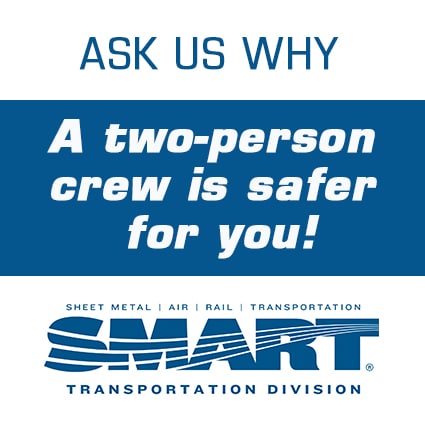 Click here for the latest news involving two-person crews.
---
Follow this link to contact your Senator to tell them how a two-person crew is safer for you.
Check your voting options for the upcoming election.
---
Railroad workers know the importance of having two people on a crew to keep U.S. freight operations safe, but there are those who are unfamiliar with the collaborative role a certified conductor and a certified engineer perform day-in and day-out.
Carriers, looking at their financial interests rather than the operational safety aspects for workers and the general public of having two in the cab of a train, would love to cut costs. With the goal of increasing returns for executives and shareholders alike, carrier representatives use the excuse that requiring two or more people on a crew would be cumbersome to their vision of "innovation."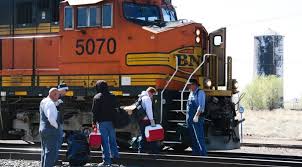 The FRA has gone along with this vision. With carrier interests in mind, it withdrew a Notice of Proposed Rulemaking (NPRM) on two-person crews in May 2019 with Administrator Ron Batory saying "FRA's accident incident data does not establish that one-person operations are any less safe than multi-person train crews."
We disagree.
How do you keep track of the incidents that didn't happen because of that second or third crew member's presence? How can one-person train crews be any safer than having more than one set of eyes inside the cab?
Lives have been saved by having more than one crew member present.
Just ask the mom near Pittsburgh whose son would have been struck by a train had a conductor not seen him and applied the train's emergency brakes.
Just ask the mother of a wandering child who was found by a railroad crew in Minnesota in February.
Just ask the emergency responders in Tempe, Ariz., when not a two, but a three-person crew, assisted during a derailment and hazmat situation that caused an inferno above a city park in late July.
Progress has been made on this issue despite carrier groups' firm opposition. A number of states have taken matters into their own hands over the past few years and have regulated crew size, requiring a minimum of two people, a certified conductor and a certified engineer, on the crew.
And just this summer, in a big victory, H.R. 2, a massive infrastructure bill, passed in the U.S. House of Representatives. It has a two-person crew provision in it as well as other measures pertinent to rail, bus and transit worker safety.
But to his shame, Senate Majority Leader Mitch McConnell refuses to even consider the bill, calling it "nonsense."
Rail safety, worker safety and public safety is far from nonsense.