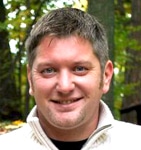 SMART Transportation Division Local 313 Chairperson Justin Van Houdt, 34, died unexpectedly Oct. 21 at his home in Hudsonville, Mich., Michigan State Legislative Director Jerry Gibson reports.
The cause of death is unknown and the family is awaiting a report from the county medical examiner.
Van Houdt, a CSX conductor, was a member of Local 313 at Grand Rapids, Mich., and entered railroad service in 2000. He was elected local chairperson in 2010.
He is survived by his wife, Alaina, and three small children, the youngest of which was born this year.
A viewing will be held Friday, Oct. 25, at Cook Funeral and Cremation Services, 4235 Prairie St. S.W. in Grandville, Mich., from 1 to 3 p.m. and 6 to 8 p.m. Funeral services will be at the funeral home on Saturday, Oct. 26, at 6 p.m.
Friends have established a fund at 5/3 Bank in Grandville to assist the Van Houdt family. Contributions may be made at any 5/3 Bank by making checks payable to "FBO Justin Van Houdt" and including account number 7168329345 on the memo line.
Gibson said he had just spent time with Van Houdt this past weekend and his death comes as a complete shock. "I ask for our brothers' and sisters' thoughts and prayers at this time for Justin and his family," Gibson said.