2015 BA Conference Recap
With a theme of GROWTH: Seizing Every Opportunity, the 500 attendees of this annual event stayed busy with morning presentations and afternoon workshops with training on new tools and strategies for today's union world.Subjects included a
new SM Union Label
campaign with
phone app
, a leadership group for members under age 40, online methods to boost member participation; and organizing tactics like the "Campaign for Jobs" initiative started in California.The week began with remarks by SMART general officers that set the consistent tone of hard work focused on the future. There were reports from the SM Funds and appearances by presidential candidates Hillary Clinton and
Sen. Bernie Sanders
, several members of Congress and industry experts.
 
GP SELLERS: "WHAT IS WORKING? WHAT IS NOT?"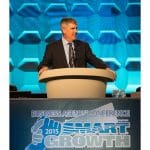 Referring to the days of unchallenged union dominance, General President Joseph Sellers, Jr. opened the conference by referencing his father, a longtime member and Business Representative at Philadelphia's Local 19. He also thanked those who have mentored today's generation of SMART members and leaders. Sellers' quickly turned to the present and the future, stating that "growth is paramount." Noting that members are the union, he cited continued increases in SMART's size and bargaining strength as vital for delivering value to today's workers—and as a strong legacy to leave for future generations. The GP challenged attendees to honestly "evaluate ourselves to see what is working and what is not," and then to break into new areas of opportunity at the local and international levels, such as marketing to contractors and end-users; new markets and new kinds of work; and raising operational efficiency. Cementing his pragmatic tone, Sellers noted the proven worth of the tactics and strategies to be presented at the conference workshops. He urged the assembled leaders to "make sure what you learn is incorporated into your local unions at home." He closed his remarks with a call to action: "The opportunities are there. Work is there. Growth is there. It's time for seizing every opportunity… and now is our time."
GST McCLEES: "WHAT YOU DO TOMORROW"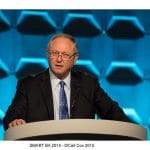 In remarks focused on improving operations and the return on every resource we use, General Secretary-Treasurer Richard L. McClees began by noting that, "as my dad always told me, no matter how hard you try you can't change yesterday. You can only have an effect on what you do tomorrow." McClees said new technology has already made the union more effective. But, to get the most from our resources, he said, the challenge is not just to adopt new systems, but to maximize their efficient use.   As an example, he noted SMART-union.org. The site has been up for years—but now offers a form for members who wish to get news online rather than in a hardcopy Members' Journal. They get more and timelier news, and the saved printing and postage costs can go to bargaining and securing work. McClees said SMART is looking at ways to cut paperwork and trim redundant databases and software with online platforms and shared data available to all levels of the union. The saved staff time can go into adding market share and man-hours. In closing, McClees recalled an industry exec who said his firm does as much work today as before the recession—but with less manpower. So rather than just accept the changes that are costing us jobs, McClees urged locals to put their conference lessons into action for restoring lost projects and hours.  
CLINTON, SANDERS, U.S. REPS. ADDRESS CONFERENCE
Video:  View Bernie Sanders Addressing Attendees
Proving that 200,000-plus members give us political power, speakers at the 2015 B.A. Conference included Presidential candidates Senator Bernie Sanders and Hillary Clinton. Attendees also heard remarks from three Members of Congress. Sanders declared that "a strong middle class is synonymous with a strong trade union movement," and vowed a "political revolution" that tells billionaires "you can't have it all." He pledged to push a "major federal jobs program that puts millions of Americans back to work, to invest $1 trillion over five years in modernizing infrastructure," and to expand workers' rights to unionize. Before Sanders spoke, Hillary Clinton appeared in a specially taped video and warmly praised unions, telling the gathering that "your success is our country's success. We need an economy built by every American for every American." She extolled apprenticeship, calling SMART's a model program, and said she will back a tax credit to "encourage businesses to hire apprentices." After the Sanders speech, General President Joseph Sellers spoke to the media scrum. He called called Sanders "fantastic" and praised Clinton's strong support for this union and American workers. Attendees also heard from Representatives Rosa DeLauro (D-CT), a fierce protector of U.S. jobs; Mark Pocan (D-WI), a union member who led statehouse sit-ins against Scott Walker; and Donald Norcross (D-NJ), a union member and leader of the Southern New Jersey Building Trades.