2014 Voter Registration Guide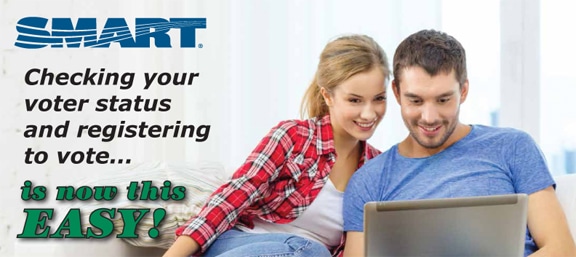 Casting a ballot in 2014 is one of the most important things you can do to protect your rights, your pension, and your job security. The first step to making your voice heard this November is to make sure you and everyone in your family is registered to vote (and if already registered, to apply for an absentee ballot).
Some states now allow residents to register online. The days of printing an application, finding an envelope and stamp, and placing your application in the mail before the deadline is as antiquated as traveling by stagecoach. Today, all you need is access to the internet. Complete information on how to access your state's voter site is listed below.
We want all SMART TD members to vote, no matter whom you ultimately choose at the ballot box. The issues at stake for rail workers and other transportation employees are too high for us and our families to sit on the sidelines and let others choose. If you have any questions regarding the voter registration process, please call your national legislative office at (202) 543-7714.
The following states provide online voter registration. If you are a resident of one of these states, just click the link to register or to verify your registration. If your state is not listed below, select the Long Distance Voter link at the bottom of the page. 
Arizona
California
Colorado
Georgia
Indiana
Kansas
Maryland
Minnesota
Missouri
Nevada
Oregon
South Carolina
Virginia
Washington
Residents of states without online voter registration can visit Long Distance Voter to verify their voter registration, register to vote and request an absentee ballot:
Long Distance Voter